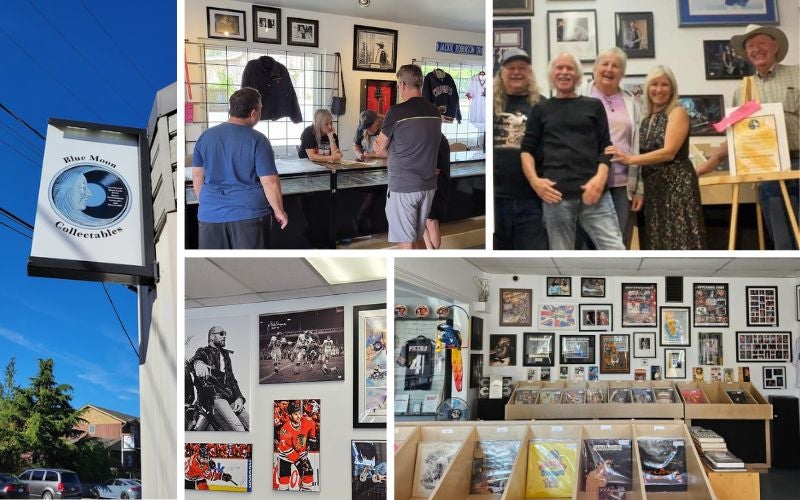 "South Delta is a friendly, safe place — there's such a sense of community. I want to be part of that by helping support the local live music scene."
Two South Delta businesses he recommends:
Angela's Boutique
and
Camille's Boutique & Gallery
Former city worker and long-time South Delta resident Murray Bureyko is a treasure trove of pop culture history — and he's got the unique collection of niche memorabilia to back it up, including a toilet seat signed by Frank Zappa (which is, unfortunately, not for sale). As the owner of Blue Moon Collectables on Delta St. in
Ladner Village
, Bureyko loves to connect with customers and fellow collectors, exchanging stories and appreciation for the ephemeral nature of the used goods in the store he opened in August 2023. Each rare vinyl record, sports card, autographed item, book, and more reflects his passion for the thrill-of-the-find, and comes with tales that Bureyko says will "blow your mind." Anyone who visits the shop, open daily from 11am to 6pm, is in for a treat, even if all they leave with is an interesting anecdote from Bureyko's curated collection of memories. He isn't just showcasing exceptional tokens of the past, passing on the torch of bygone eras to future generations, he's also fostering a sense of community, with plans to host in-shop events that support local artists. Whether you're all about nostalgia or looking to make new memories and connections, Blue Moon Collectables is a must-visit South Delta destination.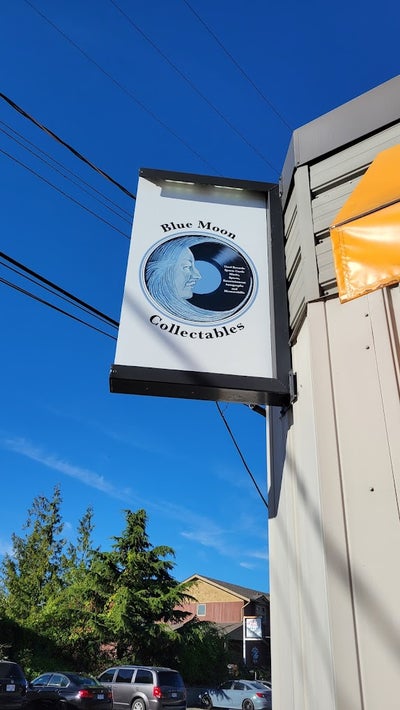 What inspired you to open Blue Moon Collectables?
I've been a collector for over 35 years. From about 1990 to 1995 I had a sports card shop in
Richmond
, but then I got a job with the
City of Vancouver
, where I worked for 25 years. I've been living in an 800-square foot floating home on
Westham Island
for 13 years, so all my stuff was under the bed, in the closet, and in storage — I couldn't really display any of it. When I retired a year and a half ago, I thought it would be cool if I opened a shop because I could finally enjoy all the stuff I've collected, and also sell and trade with other collectors. I've kind of opened up my own man cave where about 95% of my stuff is for sale. I have a few favourite pieces I won't sell, like the album
The Tragically Hip
used in their first music video from their EP, "
Last American Exit
." In the video, the band is going across Canada and they pull into an Edmonton record store where they sign an album for the manager. I've got a screenshot of Gord Downie actually signing the album that I own, which is a one-of-a-kind thing. But I learned when I had my first shop that you can't keep everything, because you have to sell good stuff to be able to buy more good stuff! I called the store Blue Moon Collectables because it's stuff you only see once in a blue moon.
Can you share more about what's available in the shop?
There's really no other shop like it because of the oddball stuff I've got: sports cards, records, and over 300 autographed items. I specialize in stuff you just don't come across. It's especially great around Christmas when you're looking for rare gifts for, let's say, a Montreal Canadiens fan; I've got a bunch of limited-edition cards that are numbered 25 or less, actual game-used items, and even a piece of Maurice "Rocket" Richard's jersey. The shop is great if you're looking for something special that somebody definitely doesn't have, like rare vinyls. And I get a lot of compliments on my prices. I'll sell a used
Fleetwood Mac
album from the '70s for about $15 to $20, whereas, if you go to another store to get the reissue of the same album, you could be paying $40 to $50. When vinyl died out in the '90s and switched to CDs, the people who made vinyl got rid of all their old bulky steel record presses because they didn't think they'd need them again. But now vinyl is back in style, so for most new bands and reissues of old albums, there's a huge backlog, which drives up the price. But overall, collecting and opening this shop is really all about sharing stories — that's what really gets me going. I'm just as interested in hearing what other people have collected and what they've found along the way, and I get a rush out of passing on information. A real highlight for me is suggesting a band to a customer, then they come back after checking them out and they're just blown away. I love making those kinds of connections!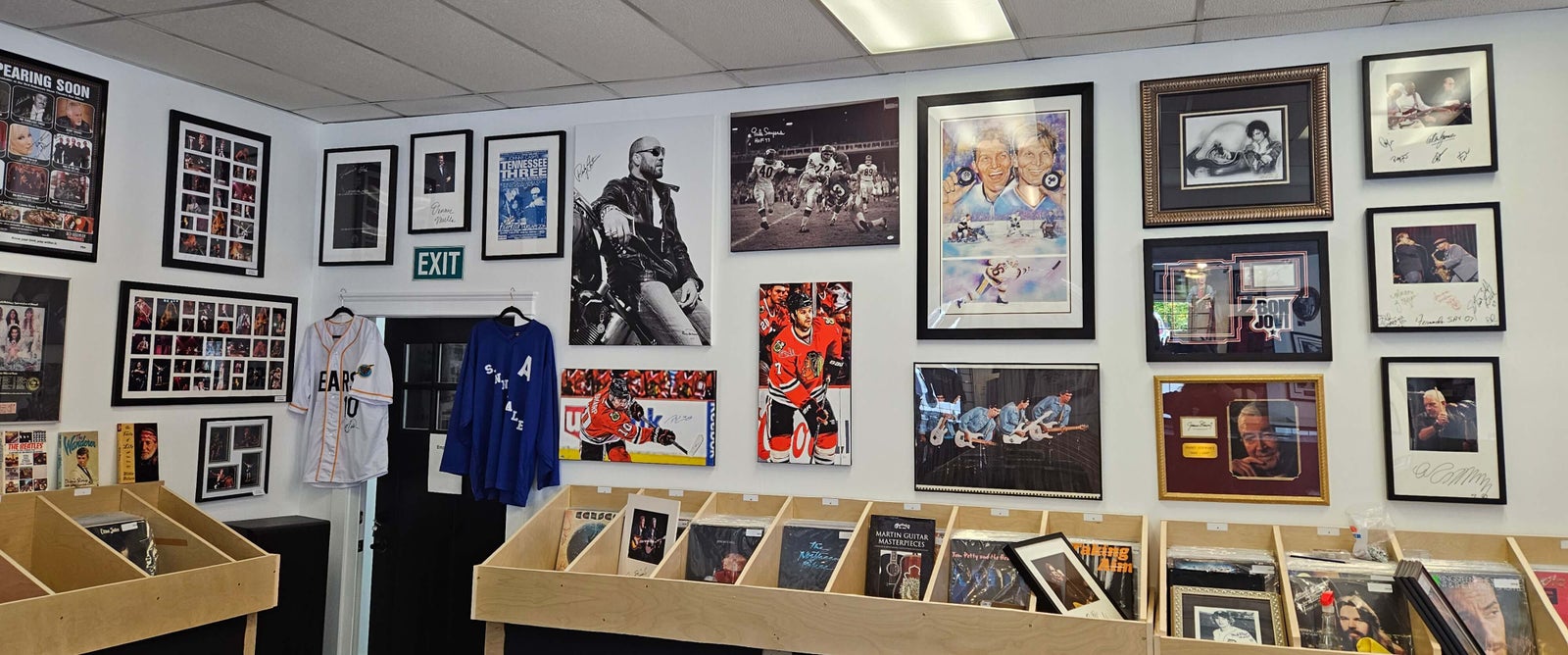 What drives your passion for collecting memorabilia?
The biggest thing for me is the thrill of searching for and finding treasures. I've been a music fan and collector since around 1974, and I've probably worked with about 200 bands at different events, like
Cheap Trick
and
Whitesnake
. There's so much good music out there, so many different avenues of the history of classic rock, but a lot of people don't know about it. I mean, if you look at a band like
Lynyrd Skynyrd
and only listen to them on the radio, it's either "Freebird" or "Sweet Home Alabama," but look at their body of work — it's phenomenal! People don't always get the opportunity to hear their other stuff, so they can come here and talk to me and take a chance on some of their earlier albums. I ask every customer what they like and about their interests. When I see what they're looking at and picking out, I'll start a discussion and offer a cool fact if I have one. People really appreciate stuff more when they know the backstory. I'm trying to appeal to a younger demographic, like 18 to 30, but a lot of people my age will come in and their eyes will light up when they see certain things because they remember them when they were younger.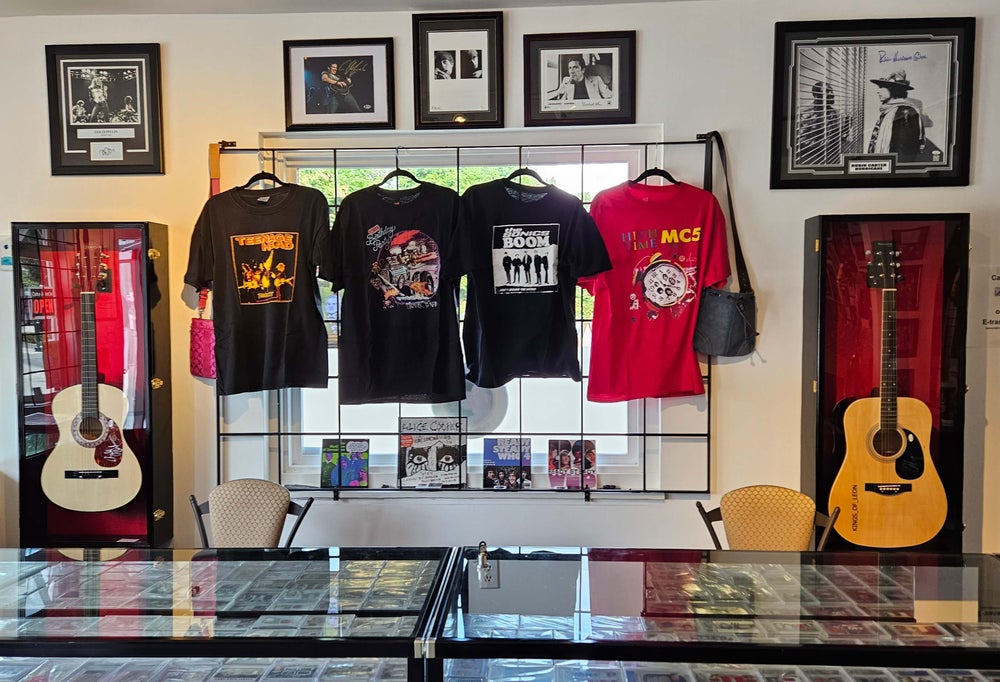 Do you have any goals for the future of your business?
I'm really supportive of local artists, so I'm gonna have musicians come in to play acoustic sets, and host other events like that. My daughter
AJAYE
is a songwriter living in Nashville, but when she comes home to visit the first week of December, she'll be performing in the store. I really want to be a part of the community and help support the local live music scene. I have a lot of contacts through the
BC Country Music Association
, so there might be a lot of artists from there that would be interested in playing at the shop. I also specialize in evaluating stuff, which I've done a few times, helping people out with estate sales. I had a friend that passed away who had a vast collection, and his family needed somebody they could trust to help with evaluating all his stuff. So I offer that service when needed as well — I don't want anyone getting taken advantage of if they don't know what things are worth.
What do you love most about living and working in South Delta?
South Delta is a friendly, safe place — it reminds me of growing up in Richmond 40 years ago. When I had the
Stone Poets
play here on September 16th, there was such a sense of community. I also loved being part of the
LBA Art & Wine Stroll
on September 21st, which was fantastic and so much fun. And when I go back to my float home at night, it feels like I'm going to my cabin on the water.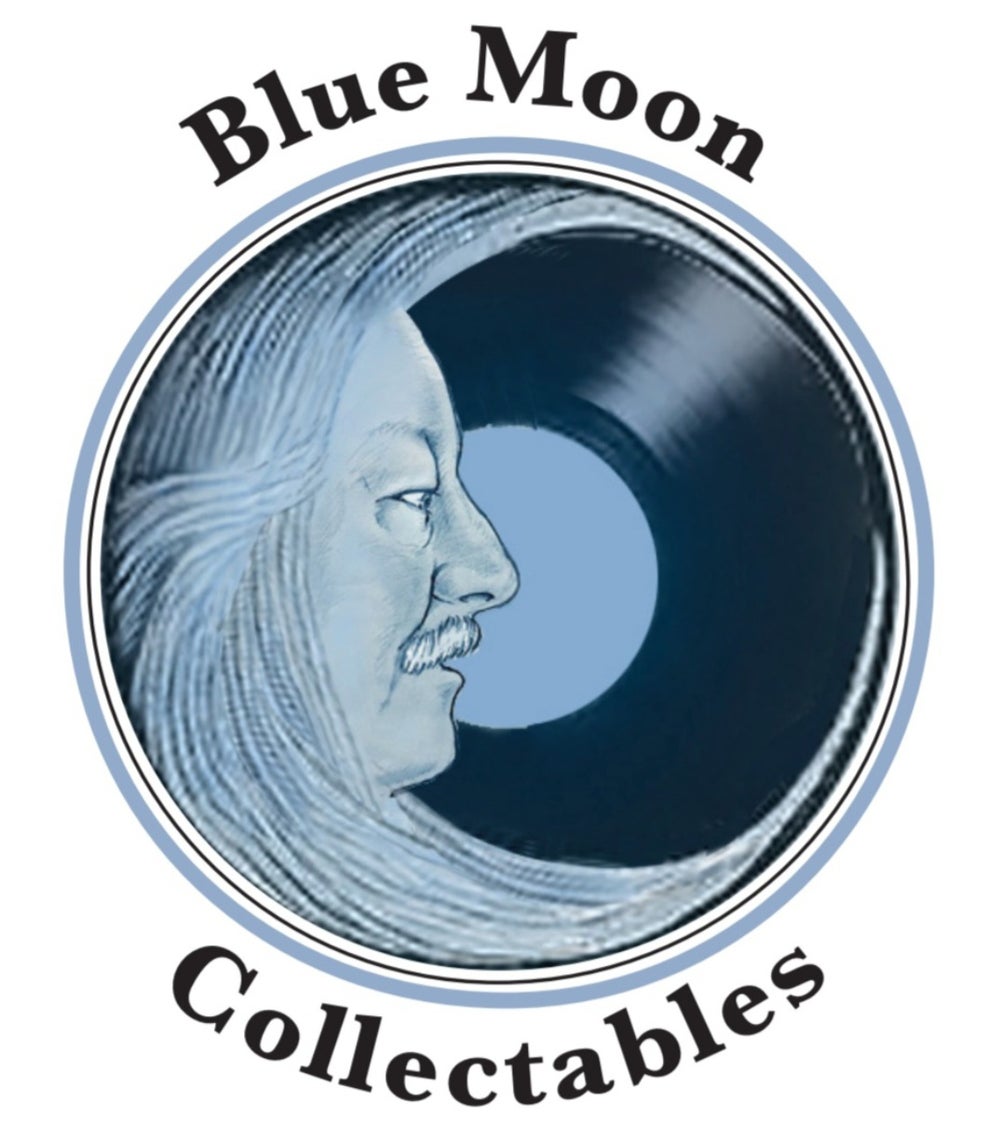 ---
Connect with Blue Moon Collectables on
Facebook
and
Instagram
for now; their website is coming soon!
Sign up for our e-newsletter
to receive customized South Delta real estate reports, community news, and more business + lifestyle features like these.
Interested in being featured or know someone we should feature? Please
get in touch
.