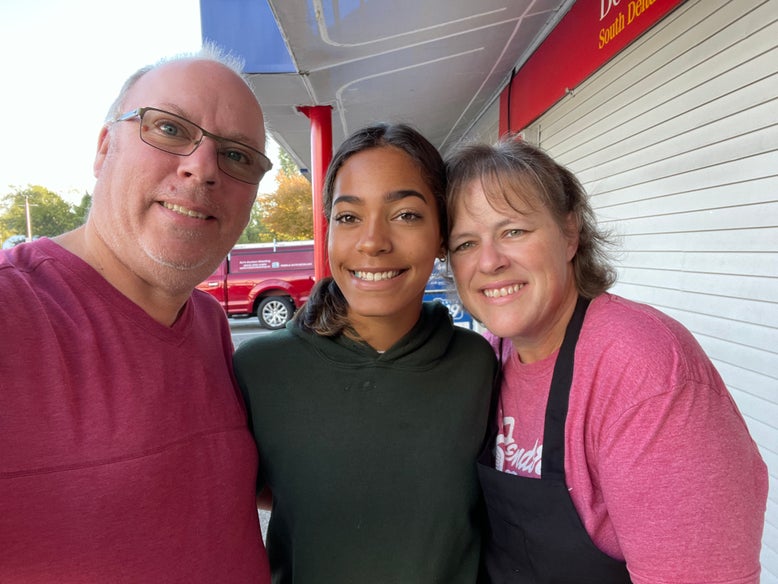 There's nothing more satisfying than cleaning your car, says John Autin, who has turned his passion for detailing into a successful mobile service in South Delta. John paired his given name 'Ralph' with his middle name 'John' to form the moniker RJ's Custom Detailing in 2020 after his job became a fatality of the pandemic. He considers having to rethink employment a blessing in disguise, as his solo venture has already given him a fulfilling mission: bringing his customers' vehicles back to like-new condition. John gets a kick out of travelling around South Delta in his fully-loaded cleaning van and learning more about his customers and their lifestyles. His mobile business model eliminates the hassle of organizing pickups and dropoffs and has him relishing opportunities to visit unusual places, like when he was tasked with cleaning a vehicle in a potato barn on Westham Island. We learned how John manages to get out the stickiest and ickiest stains and messes — from sap on paint to fishy crackers pressed into a seat — and how he finds satisfaction in helping busy people ride in comfort and style.
What inspired you to start an auto detailing business?
I was doing some soul-searching and looking to start a new career, so I made a list of things I love to do. Working on cars is one of my lifetime loves, and working outdoors is something that I really enjoy, too. I was looking for a way to fit those two things together and that's how I came up with the idea of mobile detailing. I love it; it's something that I would do for free, so making money doing it is just a bonus. I've done detailing all my life. I've always worked on my friends' cars, my wife's car, and my own car. I've got pictures from when I was a kid helping take care of my buddy's '68 Mustang. Now I'm just driving an ugly old van and pickup truck — I'm much more about function these days.
Before opening my business two years ago, I worked for Safeway for 30 years and became semi-retired at 50
—
I worked for U-Haul and ADESA auto auctions for a little while, but I got laid off due to COVID. That's what pushed me to start thinking about what I really wanted to do for work for the next 10 years. I thought detailing would be a cool thing to do maybe part-time. I thought that if I could do it two-or-three days a week, I'd be laughing! But from day one, it took off; I've been working six days a week since I started. It just exploded! I've struggled with whether I should hire people, but then I'd be more into the management side of it, which doesn't appeal to me to be quite honest. I enjoy the physical work.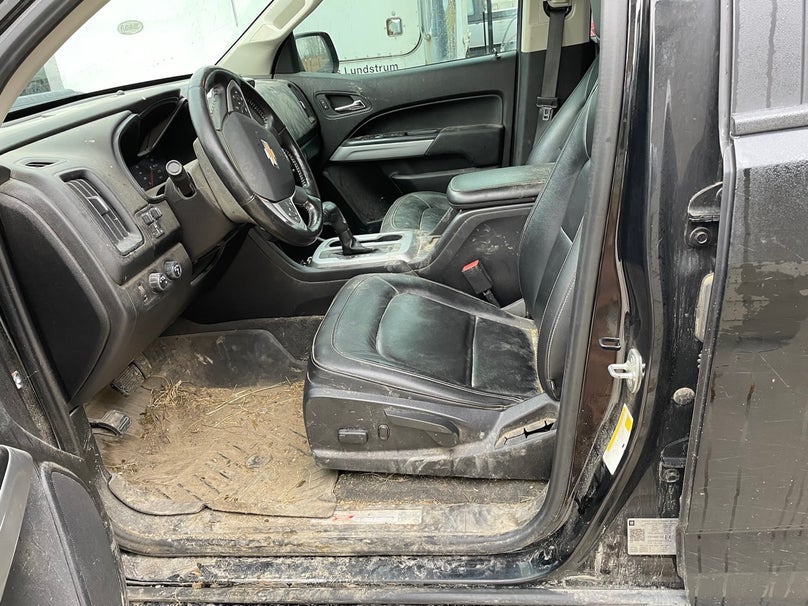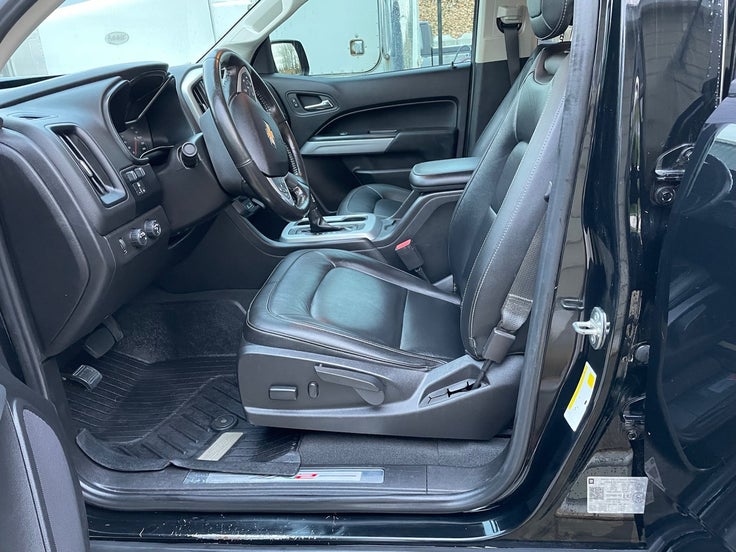 Tell us about your expertise and what services you offer.
I offer interior and exterior cleaning and detailing services, directly in people's driveways at their home or work. The goal is to bring the vehicle, inside and/or outside, back to as close to new condition as I can. 
To give a specific example, for the carpets I first give them a vacuum. Then I go through the second time using high-pressure air to bring all the deep dirt and sand to the surface. And then I go through and I give it a really, really good vacuuming again. I use an all-purpose cleaner or detailer to clean all the door panels, the dash, and the switches with a brush or, again, with compressed air. I've got a machine that sprays the cleaners into the surface pores to bring the dirt out and then I go through and put a conditioner on top of it. Same thing with the leather seats: I use a cleaner on those first, then apply a conditioner, which makes them look fantastic. I offer shampooing services and paint cleaning services, too. If your paint is really scratched or weathered, I can go through and polish the clear coat to bring it back to life and then put a protection on top of it, so it stays that way.
I also offer maintenance services, so once your car is clean or, if your car is new (or already very clean), I offer discounted services to maintain the vehicle at a high-level of cleanliness. I've got a couple of clients who have new vehicles and, on a bi-weekly basis, I go to their workplace and very thoroughly wash their vehicles. I do the wheel wells, the inside of the rim barrels, the door jambs
—
everything
to keep them looking as new as possible. They've had their vehicles for two years now, and I can tell you without a doubt that they still look brand-new.
What differentiates you from an auto body shop that does detailing?
Quite honestly, the care that I put in. I don't schedule details back-to-back right on top of each other, so I'm able to put the time into properly detailing every vehicle, regardless of how much time it takes. I have timelines on my website, where clients can easily book a detail job, and while the majority of vehicles fit within those estimates, if it takes another half an hour or an hour to get a vehicle to the standard I set for myself
—
as close to new as I can
—
then I take that extra time. 
The other thing that sets me apart is the convenience; the mobility aspect is important. People don't have to make an appointment, take their vehicle to a shop, drop it off, and have a friend or a family member come pick them up mid-day and drop them off again later. A lot of people now are working from home. A lot of people are retired. And a lot of people are working out of the house — I'm happy to go to them, too. Finally, there's my truck setup. I've got water, electricity, and everything else that I need to detail a vehicle contained in my truck. I can literally detail a person's vehicle in the middle of a parking lot without any external sources. The most interesting location I've worked in is a barn on
Westham Island
.
What services are you most proud of and why?
I would say my interior detailing. After I detail a vehicle, it's often obvious I've exceeded my client's expectations. They're so happy and amazed, and it shows on their faces. They'll say, 'What the?! It looks brand-new!' It's very satisfying. It's a great feeling to help someone out, especially on the really big jobs
.
I've got a number of clients on
Westham Island
, which is a farming community, so the vehicles are well-used. Think dogs out in the fields jumping into the truck as they're driving back to the farmhouse; there's mud from top to bottom in a lot of these vehicles. I'm able to bring them back, you know? I mean, they've got a lot of kilometres and there's a lot of wear and things that don't come out, like scratches, but the way that the vehicle looks when I'm finished with it is as close to new as possible. Sometimes the results even surprise me! I've got lots of pictures on my website of vehicles that I've brought back from the brink of death. By the time I'm done with them, you can't tell that they were used the way they were. I get them back to a very, very,
very
good condition. That said, I can tell you
—
some of the vehicles that belong to moms running their children from daycare to
soccer
practice and everywhere else
—
those rival the farm vehicles. Busy moms actually make up a big part of my business. You know, kids know how to make a really big mess. Fishy crackers give me PTSD!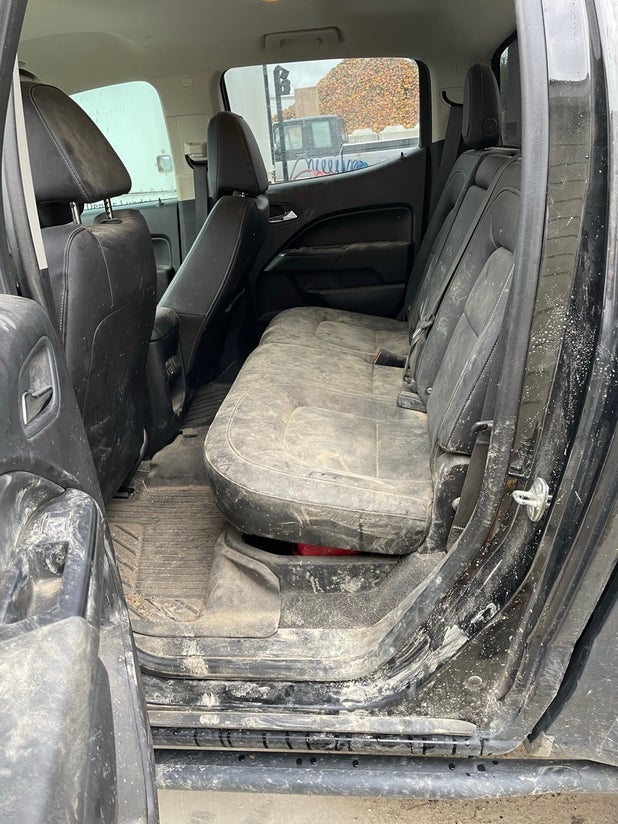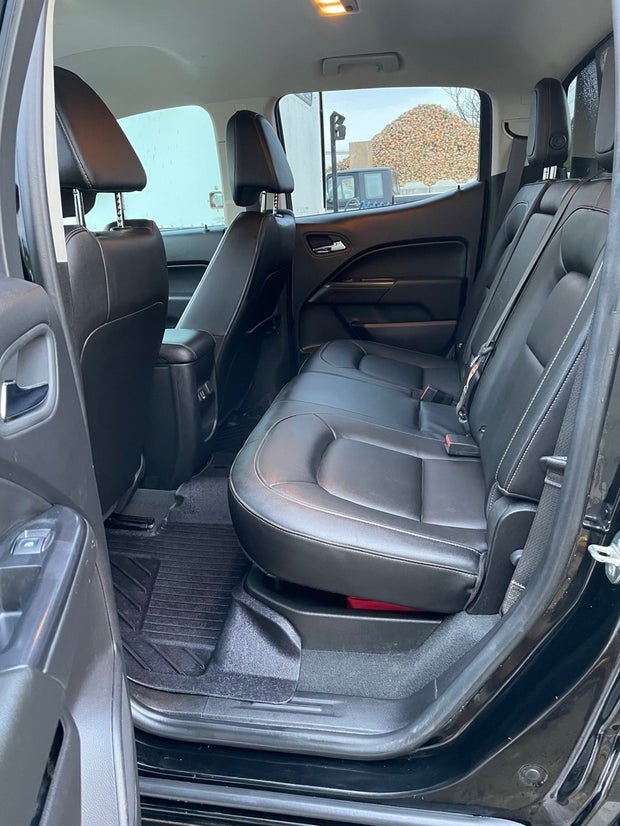 Spring often signals cleaning for folks. Do you have any vehicle detailing or maintenance tips for this time of year?
Absolutely! This time of year the big one is checking underneath the hood of your car because rodents like to get in underneath there, so periodically checking for nests is a big one. People don't think about it until it actually happens. That's something that I do when I do details: I have a quick look under the hood.
We live in a pretty good place in Canada in that we don't deal with a lot of salt buildup or that type of thing here. That said, sap buildup is a big one to watch for, because there are lots of trees, especially in Tsawwassen; when sap builds up on vehicles it's really hard to get off and it etches the paint. I have no problem taking care of that. Other than that, from where I'm sitting, it's a matter of just general vehicle maintenance. People just don't seem to have time to do that very much anymore, but I'm happy to help. 
What inspired you to open your business in South Delta and why do you think it's taken off so quickly?
It's where I live; my wife and I moved here in 2006, and we just absolutely love it. There's a real sense of community and the people here are excellent. The
services that Delta offers
are also excellent
—
it's a great place to live and work! It still has a small-town feel, where everybody is connected in some way.
In terms of how my business has taken off,
the dealers don't offer the services or the same level of cleaning that they used to. And dealers charge a premium price, but what they deliver is quite often lacking. Aside from that, I think life has become so busy for a lot of people that they don't have time to maintain their vehicles. A lot of the vehicles that I service haven't been touched in a year or more. 
I get a ton of repeat business and referrals; almost every client says: 'Oh, I got your name from so-and-so,' whether that's a family member or a friend. I'll bet you five out of ten people say something like that to me. My clients range from farmers to moms to people who work at
the businesses in downtown Ladner
; I service their vehicles while they're at work. I've got a number of clients in Tilbury, too. 
For anybody that's starting a business in South Delta, you know, word of mouth really works. Your reputation has to be number one. And if you look after your reputation and look after your clients, then everything else will come to you.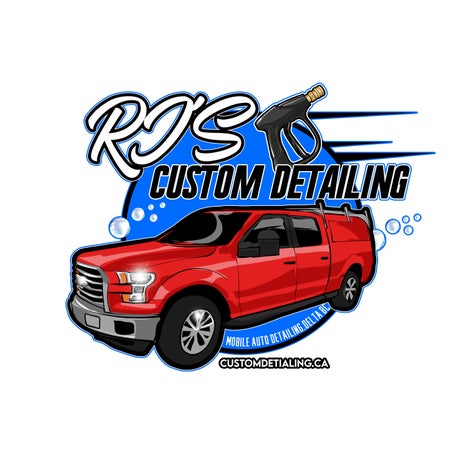 ---
Connect with RJ's Custom Detailing on
Facebook
and
Instagram
, or visit their
website
.
Sign up for our e-newsletter
to receive customized South Delta real estate reports, community news, and more business + lifestyle features like these.
Interested in being featured or know someone we should feature? Please
get in touch
.