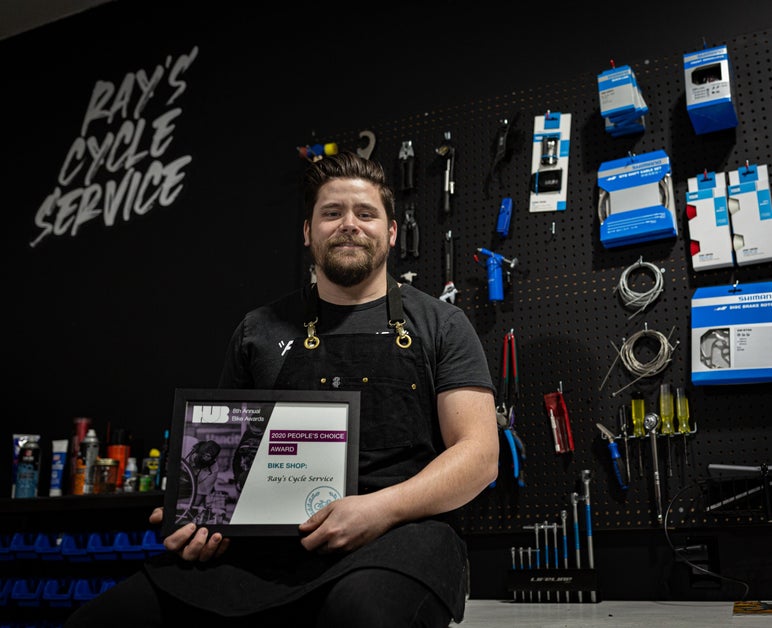 "After growing up in Tsawwassen, it was a pretty easy decision to start my business in South Delta. Over the years, I've seen the community proudly support businesses that provide excellent service and are passionate about what they do. With that in mind, I couldn't think of a better place to set up shop."
When the world felt like it was spinning out, Ray Croin turned to cycling. After being laid off from his automotive service advisor job, Ray was stuck inside with his toddlers during the early days of the COVID-19 lockdown; this inspired him to dig out the bikes and tune them up for family rides. But after an exorbitant quote for a bike repair roadblocked him, he went hunting for the part and fixed the bike himself. A couple of posts to community message boards later, and this handy and knowledgeable bike enthusiast steered his way into entrepreneurship. We connected with Ray's Cycle Service to find out how Ray turned his garage into a shop providing a range of services, including basic or full service tune-ups, tire repairs, and shock, fork, and dropper post-rebuild services. The former competitive cross-country and downhill mountain biker is a gearhead who enjoys bike diagnostics so much that he opts to repair rather than replace parts whenever possible. He takes pride in his high-level customer service and communication skills, offering video and photo consultations that give his customers added value in the form of educational takeaways. Ray's tips and tricks have folks developing a keen ear or eye so they can better avoid a flat on the
Boundary Bay Dyke
. Ensuring South Delta riders are ready to hit the trail or roll smoothly through Ladner Village is all in a days' work for Ray, who is finding joy in seeing how his business impacts others' overall health and happiness.
What inspired you to start a bike repair business in South Delta?
I used to be a competitive rider, so most of my knowledge and experience comes from that, and from working with other people in the cycling community. There's no bike repair certification like with an automotive mechanic, so taking the time to source the information and learn it on your own for the most part is important. Given my competitive biking background, I've learned from the manufacturers my whole life, and the diagnostic process keeps the work more interesting and less routine for me. I've serviced bikes for people informally in the past, although I wasn't paid for it; I just had the experience and the specialty tools. When the pandemic hit in March 2020, people were limited as to what they could go out and do, especially if they had kids stuck at home like I did. I saw a huge demand for it and decided to give it a go as a business. After last summer, it almost feels like a responsibility to keep providing services for people. I've heard the feedback and the difference it's made, and I think that's why I'm so committed to this business. 
What sets you apart from other bike repair service shops?
I would say it's our price point for bike repairs and tune-ups, primarily because of the savings with running my business from home. A lot of commercial bike repair businesses out there are charging a crazy amount—some of the labour rates are almost the same as if they were repairing a vehicle, and some of the bills mean people are deciding whether or not their bikes are even worth fixing. By working out of the house, I offset my overhead to next to nothing, making my services a lot more affordable. And on top of that, we're one of the few businesses that offer pick-up and drop-off. With COVID, keeping things very low contact—or no contact in a lot of cases—is a huge plus, and it's convenient for people who aren't necessarily able to load up their bike and bring it to where it needs to be serviced.
I also try to give the customer an idea of what to look or listen for—so what it sounds like when your chain is starting to rattle and what it means, as well as what to do at that point. There are minor adjustments that can be made to buy time so they don't get stuck if they're far from home. I deal with a lot of flat tire repairs from people who are riding on the dyke, where there are thorns from the berry bushes and such. A lot of people come to me after they unsuccessfully tried to change a flat, so I try to walk customers through simpler ways to do things. Going through the basics is important, including the signs of what to look for before you get to the repair stage. I provide pictures and videos too, so everything's explained thoroughly and they're kept in the loop. Educating people on how to care for their bikes helps them with minor adjustments in between tune-ups, which I recommend twice a year for people who are riding all the time, although a lot of people can get away with just once a year.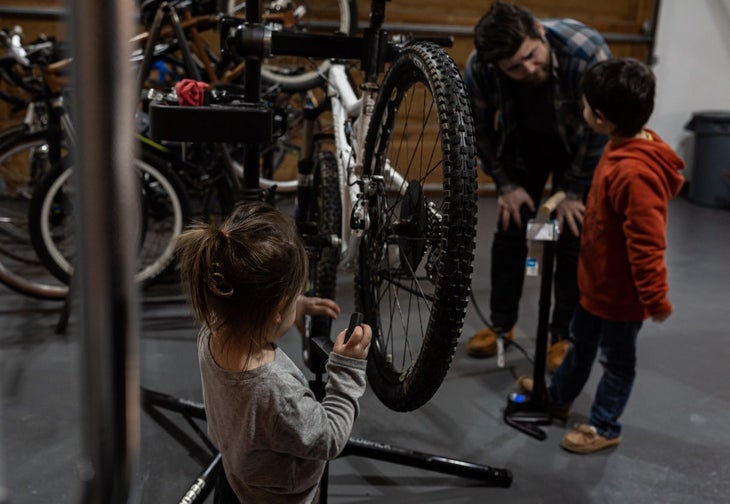 What's been your biggest win business-wise in your first year, and has South Delta been receptive to your new business?
I recently won the
2020 People's Choice Bike Shop award
through HUB Cycling, based out of Metro Vancouver, which puts us on the map with a lot of people who are focused on bringing cycling to communities. HUB focuses a lot on teaching safe practices and etiquette for street riding; they meet with classes at elementary schools to teach them early so it's more ingrained. They also have a big focus on working with cities to create better bike lanes and routes so that there's less frustration between riders and drivers. I know Delta is working on a
master plan
that's supposed to be coming out soon. I'm just starting to work with
HUB
; being recognized by them means that obviously I'm on the right track with what I'm doing: helping people out instead of being focused solely on profit.
As for the reception, bike repair—rather than sales—wasn't a service South Delta had, so there was definitely a need for someone to stock parts and do repairs. My wife and I moved back here when we started having kids; it just has that community feel and it still feels like home. As long as a small business does a good job and the service is there, the South Delta community is really supportive. And this business feels like more than just a job; I really feel the appreciation for it.
Are there developments that you'd like to see in South Delta in the next 5-10 years to pave the way for more cycling opportunities?
Absolutely! One that I'd like to work on is bike clubs, because that'll put riders in groups, which is safer than riding on your own. I also think bike lanes should for sure be a bigger focus, as the existing ones aren't necessarily the most thought-out routes. There are only a few ways out from Tsawwassen—56th St or the 52nd St hill—so obviously a lot of people head down the dyke so they can avoid those two busier routes. From the dyke it's all really flat gravel riding until you get further into Delta. So there's not a ton of technical riding, but you can load up your bikes and head out to nearby trail riding at
Watershed Park
.
I think biking has always been pretty popular, and now we're definitely seeing a lot of younger people getting into the heavier mountain bike side of it. I think people are really starting to invest time and money in biking. We're seeing things like the
Holly Park Pump Track
that they're rebuilding into an actual destination bike park, and I'm pumped to see interest rising.
---
Connect with
Ray's Cycle Service
on
Facebook
and
Instagram
or contact them at 604-506-2152 for service in Tsawwassen & Ladner.
Sign up for our e-newsletter
to receive customized South Delta real estate reports, community news, and more business + lifestyle features like these.
Interested in being featured or know someone we should feature? Please
get in touch
.