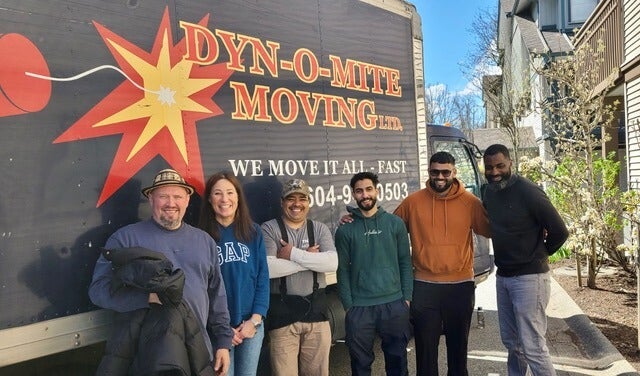 "South Delta isn't as big as other parts of the Lower Mainland; the thing I like most is the real sense of community."
The new owner of TNT Dyn-O-Mite Moving, Gus Ossa, has lived all over the world; he called Brazil, Argentina, Italy, Spain, and the United States home before finally putting down roots in Canada. Originally from South America, he moved to South Delta two-and-a-half years ago from Calgary to start fresh after the pandemic disrupted his life (along with many others'!). Together with his business partner, Gus launched a small moving company in Burnaby and got to work. Then, after settling into the tight-knit South Delta community he's now thrilled to call home with his girlfriend, he was presented with an amazing opportunity. In October 2022, the previous owners of the well-established TNT Dyn-O-Mite Moving company retired after 31 years and Gus took over. Refreshing the business and prioritizing clients puts pep in his step, which he definitely needs for his 14-hour work days. But going the extra mile is in his nature, as he approaches every day — and every job — with gusto.  
Tell us about your background and what led you to the moving business.
I have two university degrees in business administration and economics, with a specialization in marketing and management. It feels like I went to school for too long! But I've been working since my early twenties. Before I moved to South Delta, I worked in the transportation industry in Calgary; the pandemic hit me really hard, and I lost the company I built there. But that's part of life — I'm not complaining! The faster you fail, the faster you can get up and start again. In 2020 my business partner and I opened a moving company in Burnaby, and two years later the previous owners of TNT Dyn-O-Mite Moving were selling, so we bought them out.
How has it been since you took over TNT?
It's been great getting to know the South Delta community; it's not as big as other parts of the Lower Mainland, and I really like how small it is. Everybody tends to get along and support each other. The more I get to know our customer base, the more I see how much they really care about local businesses. People often try to go with locals first, and if they can't find what they need here, they go a little bit outside of the area. But we all help each other's businesses succeed with recommendations, and I really like that.
Can you walk us through what your customers can expect when they hire you?
First, they either call us or fill out a form on our website. The office staff pass along the message to one of the managers, who calls the customer right away. I think that's one of our strengths — we try to call back within five minutes and set up an appointment. We go see the place before sending an estimate so we know how much we need to move, how big of a truck we'll need, etc. And then we provide an estimate based on the visit and answer any questions they may have. After they approve the quote through our software, the moving day and time is locked in for them. A week before the move, we give them another call to see if there are any changes. On moving day, we show up on time to load the truck and move to the next destination. 
We do this for both commercial and residential customers, going as far as Alberta. We also serve the Islands and take the ferries, which can be a tricky process; sometimes we have to book far in advance. It can be a challenge at times, but we always manage. 
How does your team work together?
There are two people in the office and two managers who do site visits. They support our three drivers and the movers just in case anything happens. The transportation industry is so dynamic; sometimes there's traffic or a truck has an accident or breaks down. So we have to be on top of everything, calling customers and helping each other. 
We have six full-time employees and some part-timers who work weekends. I do a little of everything; I greet employees at the yard where we keep our trucks, and I usually show up first to check if anything happened overnight or if I need to get something for a job that day. Sometimes I pick up some of our guys from the bus depot because they don't drive. Then I go to my office and start making phone calls, answering emails, and overseeing everything from accounting and bookkeeping to insurance. I get the trucks ready when they need maintenance and I also sometimes visit and follow-up with customers to make sure everything runs smoothly. That's pretty much what my 12 to 14-hour days look like — but I enjoy it! I'm used to it now. 
What do you love most about your industry?
I love to talk to people, especially when I do home visits. Everyone is so nice and getting to know customers is always a pleasure. It's fun because they like to get to know us as well, and are always asking questions about the business. Serving customers is the most important part of our business and we love them. People are really down to earth here and easy to deal with. We always go the extra mile for our customers. After owning the well-run and reputable business for six months, we're now building our own good name and have had many repeat customers. Being locally owned and operated means we live in the community we serve. We have a great understanding of the quality of service our customers expect and we always strive to satisfy that.
Sign up for our e-newsletter to receive customized South Delta real estate reports, community news, and more business + lifestyle features like these.
Interested in being featured or know someone we should feature? Please get in touch.