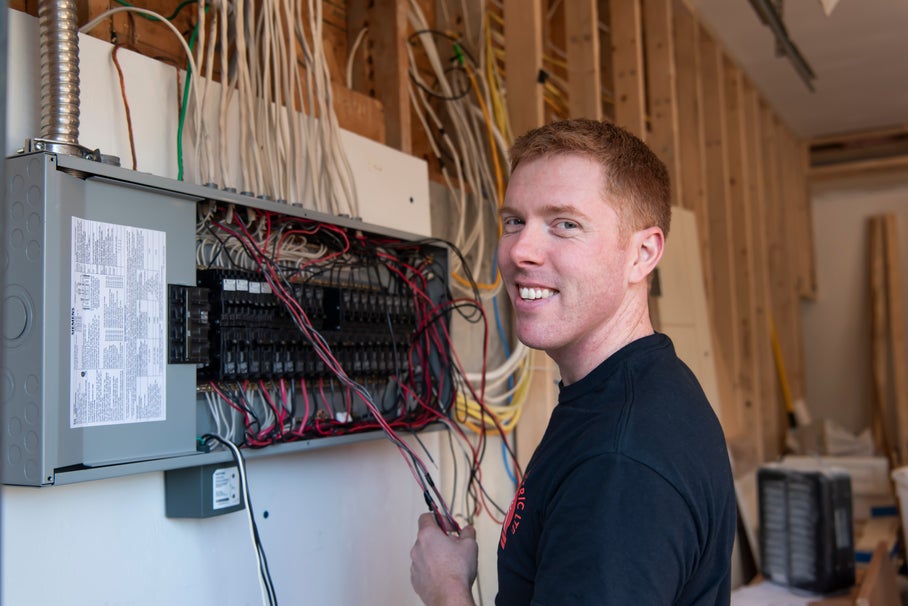 "It's a nice, relaxing place to live — not like a big city and there are a surprising amount of places to explore. I enjoy the quiet out here.
Built on over 15 years of experience, Redison Electric doesn't get its wires crossed when servicing the South Delta community. Whether the job is residential or commercial, this efficient team of five offers a personable approach to quality electrical service, always putting the needs of their clients first. Owner and electrician Sean Leonard grew up in Ladner before settling in Tsawwassen, where he started Redison Electric with his business partner in 2019. With a love of construction and building, Leonard jumped on the opportunity to do an electrical apprenticeship out of high school, which ended up illuminating his career path. Now he's living the entrepreneurial dream, running his own business in the small, friendly town he loves. 
Can you tell us about your background and what led you to start Redison Electric?
I always liked building things, so I took some
construction courses in high school
. When I finished school, I had the opportunity to get into electrical through an offer from a friend of my dad's. I did the electrical apprenticeship because I wasn't exactly sure what I wanted to do coming out of high school and it just worked out. Everything kind of snowballed from there. I started Redison Electric in 2019. The name is a play on words and has to do with my hair; it's kind of fun watching people figure it out.
(

Editor's note: Redison Electric's Director of Accounting & Administration Brianna shed some more light on this and told us it was a portmanteau of 'red' and 'Edison,' after Thomas Edison, the inventor of the lightbulb. We love some good wordplay!

) 
I started out with one apprentice and then we grew from there, eventually needing to hire another journeyman. Now there are five of us total on the team. I have a business partner who handles a lot of the administration side of things including all the back-end stuff, and we have an office manager as well.
What do you love most about being an electrician?
I enjoy the whole process: building something from start to finish and watching it grow along the way is amazing. And I really like the helping people aspect of it. We do a lot of residential work repairing people's houses or working on additions. Just watching how happy our clients are when we finish a job really resonates with me.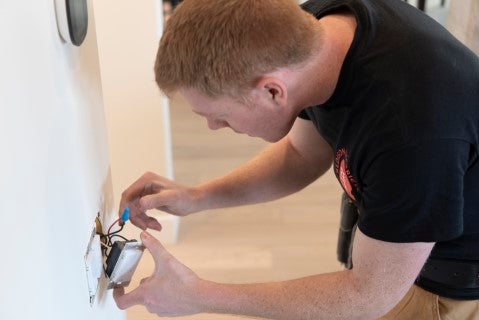 Can you describe the services you offer and what your clients can expect?
We offer quite a variety; we do everything from small service calls and repairs to renovations. We tend to do a lot more residential work, but we take on some commercial projects as well. Typically a lot of our clients come from referrals, so people usually have a bit of an understanding of what they're getting into and what to expect. But basically we'll get a call or email and then we reach out to set up a site meeting. If it's a small service call we will schedule a time that is convenient for the customer and usually do the repair during the first visit. For bigger jobs we will take a look at the site, assess the client's needs, and create a plan from there.
What do you love most about living and working in South Delta?
I moved here from Steveston, which I consider sort of a small town in Richmond, in grade four — and I never left! I grew up in Ladner and eventually moved to Tsawwassen, which is where I live now. South Delta is such a great community. Everyone talks to each other and it's very friendly. You see people in the streets and at the grocery store and everyone says hi. It's easy to recognize people throughout the town and when it comes to the business side of things, we get a lot of great referrals that way too. Outside of work, I like to get out and enjoy the
parks
and beaches in the area with my wife and daughter. It's a nice, relaxing place to live — not like a big city and there are a surprising amount of places to explore. I enjoy the quiet out here.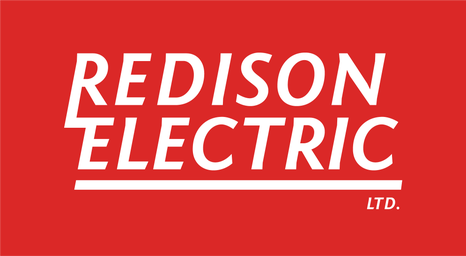 ---
Connect with Redison Electric on
Facebook
and
Instagram
, or visit their
website
. 
Sign up for our e-newsletter
to receive customized South Delta real estate reports, community news, and more business + lifestyle features like these. 
Interested in being featured or know someone we should feature? Please
get in touch
.