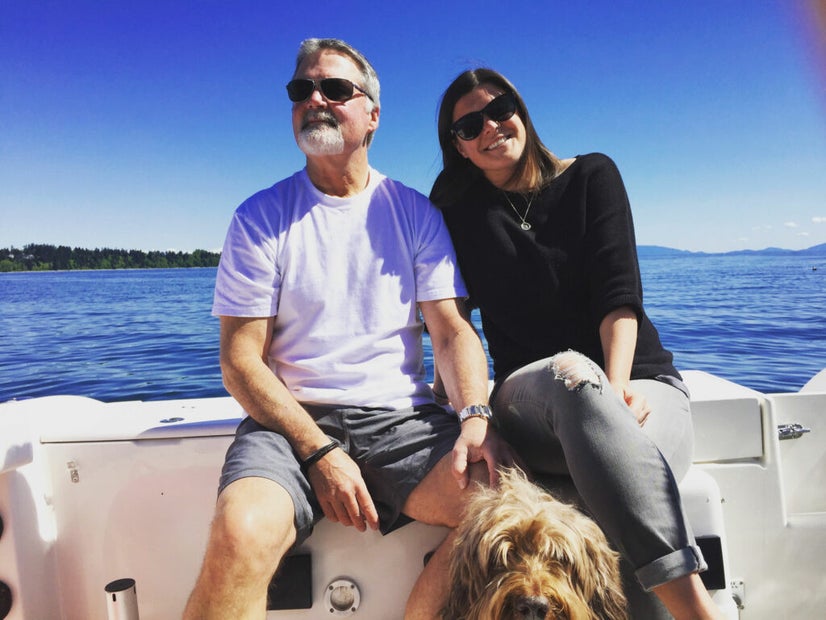 Featuring: Jackie Kenmare,
Pinnacle Homes
"I feel that South Delta is constantly changing and innovating for the better, and it's very fulfilling for my Dad and I to build beautiful homes in the town we love."
A South Delta business she recommends:
505-Junk
Born and raised in South Delta, Jackie Kenmare is excited to soon call
Tsawwassen
home again after 12 years away. Returning to her hometown to join the family business and take the reins from her father, Larry Kenmare, will be no small feat; he has been running Pinnacle Homes in South Delta for 35 years. But with years of commercial construction management under her belt, Jackie is well-equipped for the job and ready to make the full transition into the residential space. For Pinnacle, building custom homes is all about relationships, and the sense of family that exists in the company is not limited to the father-daughter duo. Larry and Jackie run operations with a trusted team of subcontractors, many of whom go way back with Larry and have also known Jackie since she was a child. Pinnacle Homes is helping keep South Delta a beautiful and unique place by building the homes of many local residents' dreams.
What expertise does Pinnacle Homes bring to your industry?
Pinnacle Homes has been operating for 35 years. My dad, Larry, started out on the tools and learned the ropes on the job. He was in the construction trade from an early age, so he was exposed to all facets of the industry, especially in the
Lower Mainland
, where he gained most of his experience. He quickly understood the process and what was required for a quality build. Fortunately, he knew early on that he was suited to be a general contractor building quality residential homes. Today, Pinnacle has a wonderful reputation; that earned respect means a lot to us.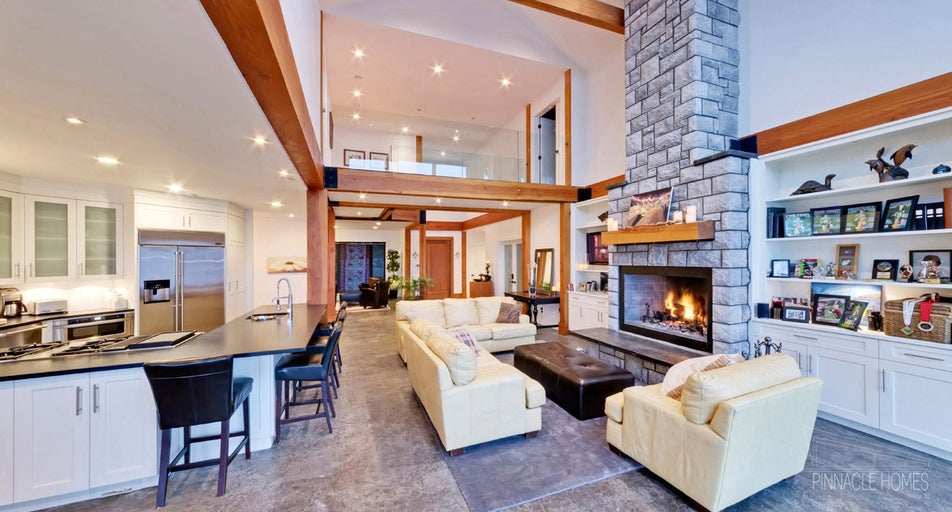 Would you say a lot of what you do is organize people and build relationships?
Sure, we build homes but it's definitely people and project management. We're really fortunate when it comes to our subcontractors. Larry has been working with a lot of them for over three decades — it's pretty amazing. They've known me since I was a kid and now we're working side by side. My dad grew up with a lot of these guys and I've grown up seeing them all my life, so it's pretty special. The relationships we've maintained with our contractors through the years is one of the things that sets us apart. When we work with a new homeowner, we're not going to consult four different electricians to get the cheapest price. When you hire us, you're using our guys and that's part of the quality of our builds — the relationships we have with our contractors and how they work with each other is based on years of trust and experience.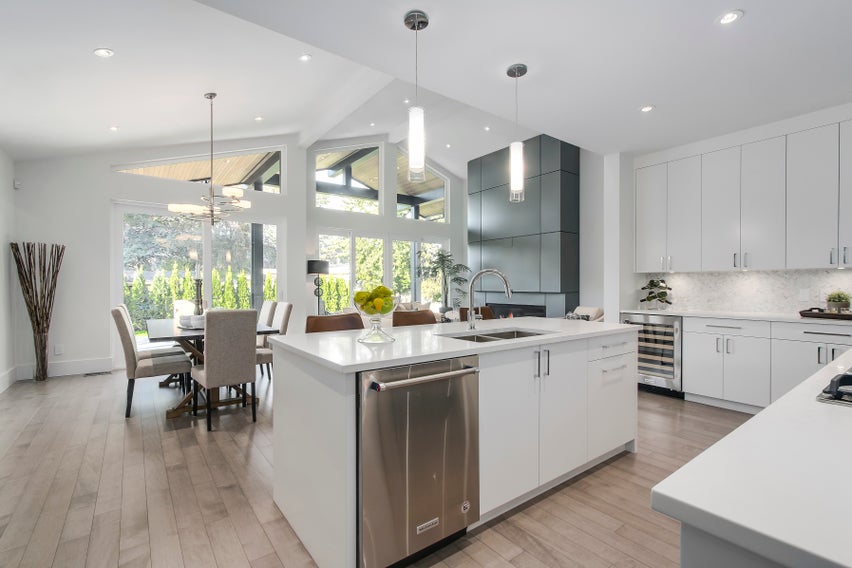 Why do you think Pinnacle Homes has thrived in South Delta?
We typically build locally, so our signs are around town; people started to notice and our homes spoke for themselves. Dad's a member at the
local golf club, Beach Grove
, and also played baseball and slow pitch softball back in the day, which helped him build relationships within the community. You meet people that way, start to make connections, and the ball starts rolling from there. Then, when people see the work you do, the word-of-mouth continues. I grew up playing sports in Tsawwassen and continue to do so, so I'm hoping to keep the momentum going and keep making and strengthening those same connections.
What are you most excited about these days?
We are getting quite busy building float homes, which is a cool experience. We build them locally out in
Tilbury
, right on the Fraser River. After we complete the construction on land, we wrap and waterproof the exterior of the home, launch it into the water like you would a ship, and barge them to their new location. We've completed homes that have gone to Ladner, Vancouver Island, New West, and even Seattle. If  you can get there by the
Fraser River
, we can build your home and barge it over to you. We collaborate with a facility called
International Marine Floatation Systems
; they build commercial docks. They engineer and form the concrete float based on the size and weight of the home and then Pinnacle builds the home on top. We've got about 4 to 5 float homes in the pipeline right now; I always find them fun and unique to build.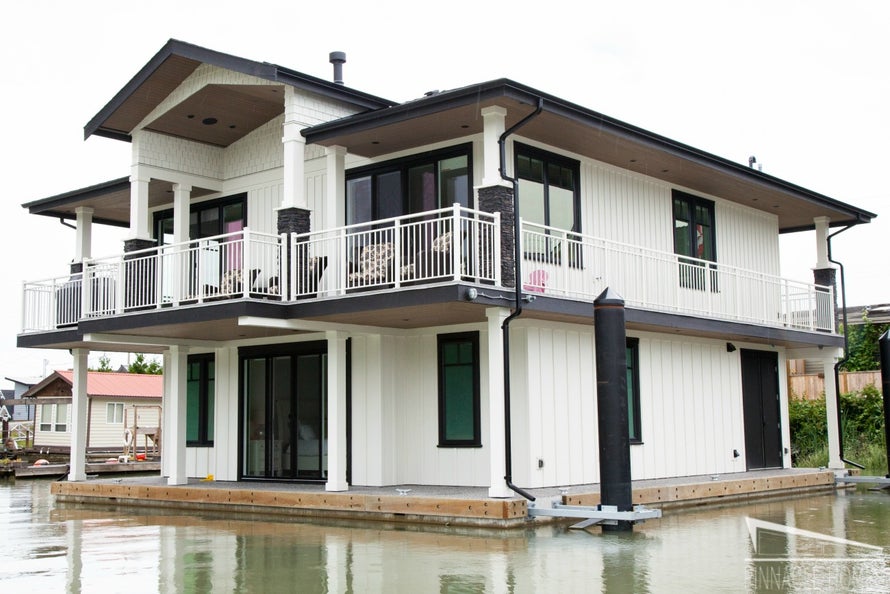 What are you most proud of?
I think we're pretty proud of every home we do. Each is a labour of love for no less than a year. So, you really develop relationships with the homeowners and obviously the trades over the course of the build. I truly value the people we work with; all of our homeowners have been fantastic. We have several repeat customers, even one right now that we're building a third home for. So it goes to show that we're with you from start to finish. It gets really personal; that's part of the custom home aspect of Pinnacle. It comes down to the tiny details of how we can make each project the perfect custom home for every person we work with, which is the difference between our projects and a regular spec home.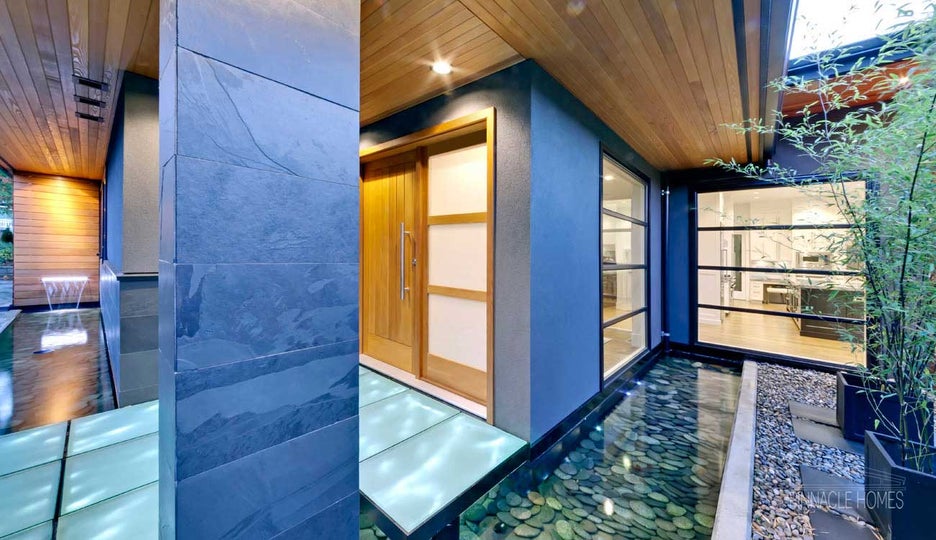 It sounds like you develop some really close connections with your clients.
Yes, exactly! Initially when I came into this position, I was a little nervous of how personal you become with the homeowners. In commercial construction, it's often a short and somewhat impersonal process. It was daunting being so intertwined with what's essentially someone's biggest life purchase. But I've actually come to love it! And that's where I think my experience in dealing with people from so many different walks of life has been an asset; I've worked in bartending, commercial construction, and other various customer service jobs in different industries prior to being at Pinnacle Homes. I've interacted with a lot of different personality types and in a lot of different situations and scenarios, so now I feel confident and comfortable with almost anyone I meet.
Could you tell us a little more about your commercial construction experience?
I was a construction project manager in downtown Vancouver for about seven years. We focused on commercial tenant improvements, and we were responsible from the inception of the project to the very last closeout document. I was responsible for estimating the project, running the tender, hiring the architect, the consultants, and the designers, and also coordinating with the City of Vancouver to apply for permits. The projects were my babies from start to finish. It was a high-pressure and high-stress environment a lot of the time, so when I had the opportunity to join and eventually take over Pinnacle, I knew it was a chance for me to dial things back and eventually become my own boss. I think learning and honing my technical skills as a commercial project manager has prepared me well to take over Pinnacle from my Dad in the coming years.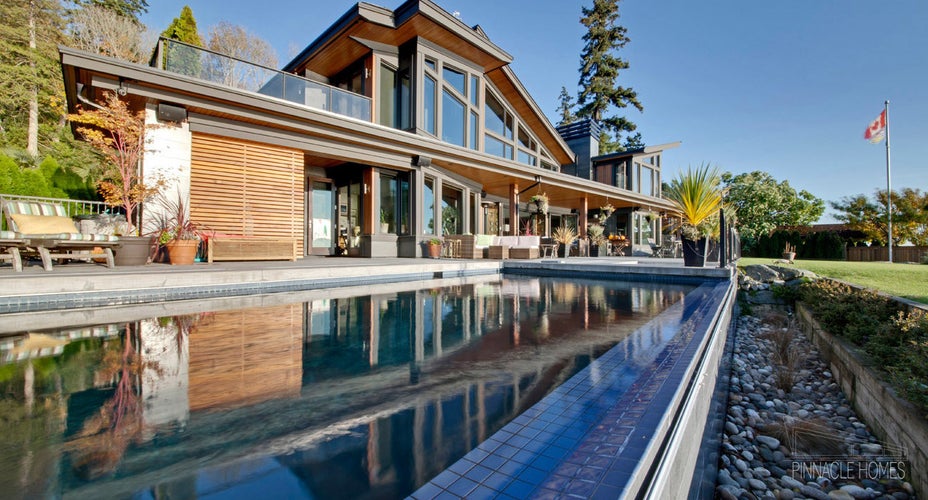 What's your favourite thing about running a business in South Delta?
I feel that South Delta is constantly changing and innovating for the better. Running a family business here means we really do have a stake in the game in terms of how we feel about it here — we take pride in our homes and how each one is personalized to the homeowner. I think that
South Delta
is the kind of community where you don't have these cookie cutter, identical homes. I was born and raised here, and I'm really looking forward to making South Delta my home again after 12 years! It's always been safe and friendly and it's our home, so we want to obviously show it off. Whatever we do, everything we're building, is to add to the beauty of the community.

---
Connect with Pinnacle Homes on
Instagram
, check them out on
Houzz
, or visit their
website
. 
Sign up for our e-newsletter
to receive customized South Delta real estate reports, community news, and more business + lifestyle features like these. 
Interested in being featured or know someone we should feature? Please
get in touch
.