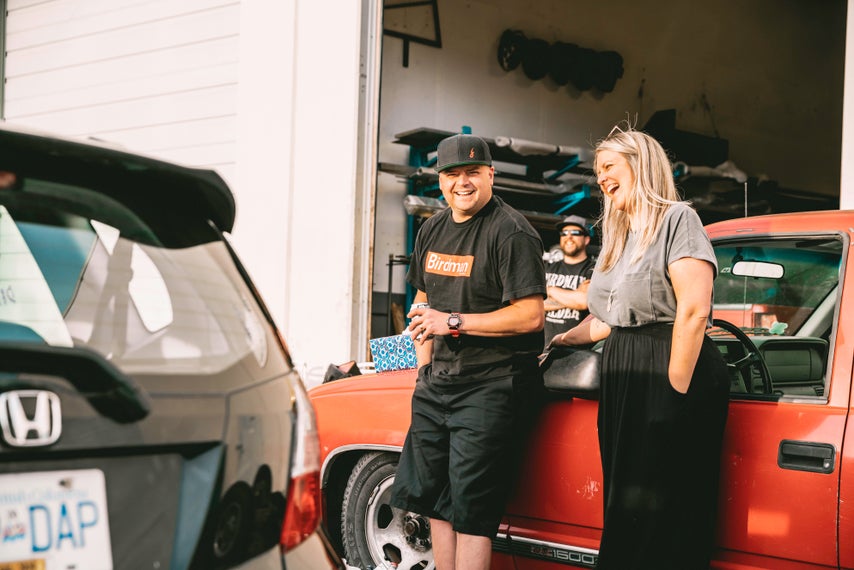 Featuring: Shaun Bird,
Birdman the Welder
"The local community here is so great for word-of-mouth and I've slowly been getting some traction in South Delta. Everybody has always been very supportive of us here."
A South Delta business he recommends:
Nat's Coffee House
Shaun Bird is a creative force, and his medium is metal. The Surrey native and South Delta transplant switched to working with his hands when academics proved difficult in his youth; today his collaborators, clients, and social media followers are all very thankful he found this calling. After many years welding and fabricating for others, he decided to branch out on his own and launch his own metalwork business. From there, his creativity flourished as he quickly began turning metal dreams into beautiful reality. From gorgeous retail displays to detailed finishings and impressive standout pieces in luxury homes, Shaun's refined and innovative style has made him a favourite with builders and retail operators alike. Inspired by the tough-as-steel custom car industry and an ability to let his wild side speak through his work, Birdman The Welder has taken flight. 
Tell us a little about your company;
what do you do?
So we do metalwork: fabrication and welding. We typically specialize in architectural elements. So we'll do anything in high-end homes and commercial spaces like custom railings and steel elements in a fireplace or big walls of steel — that kind of stuff. We also do commercial displays for restaurants or retail outlets and retail locations. A commercial display usually consists of large displays to showcase the clients' goods, muffin displays, shelves for their bags of coffee — mostly using steel, glass, and wood. It's a bit of a mixed bag when it comes to the design aspect; sometimes we do it ourselves and other times designers come to us with a full-on vision in mind. I really enjoy the design element — and many of our clients come to us specifically for our design aesthetic and uniqueness.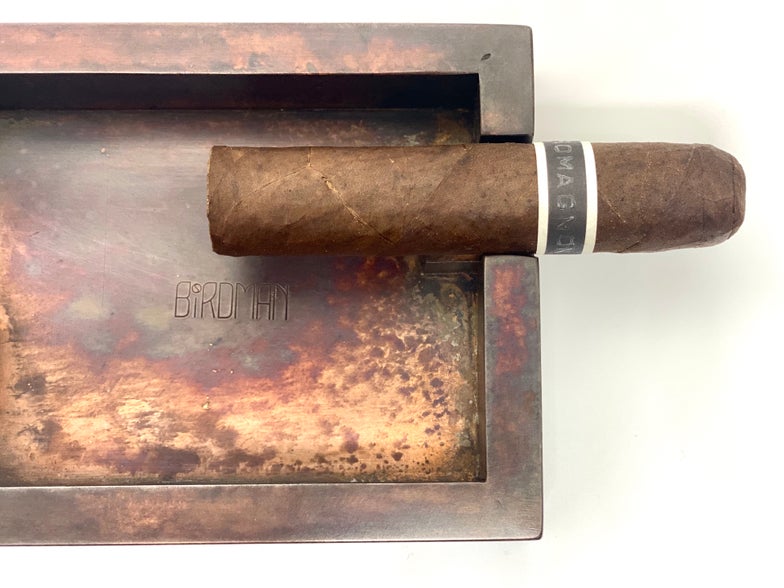 What's your background, and how'd you get to where you are now with your business?
Well, I was a horrible student in high school; I didn't do very well with academics. I just very recently got diagnosed with ADHD, so that probably partly explains why I struggled a lot. But once I discovered the automotive program, that led me into working with my hands. When I discovered Jesse James — back then, he was doing
Monster Garage
— I just thought, "That guy is freaking cool! I want to be just like him." So I went and got my welding tickets and, eventually, I started working for other businesses. I was an employee for many years. Then, about nine years ago, I decided to branch out and start my own business and explore the more creative side of things. I grew up in Surrey, then moved my home and business into South Delta from Steveston.
Who is your typical clientele?
My clientele includes a lot of interior designers, custom home builders, and commercial builders. I do get the occasional private homeowner, but I mostly prefer to work with the construction industry because it's a little more efficient for all parties. I really love having an experienced builder or interior designer involved.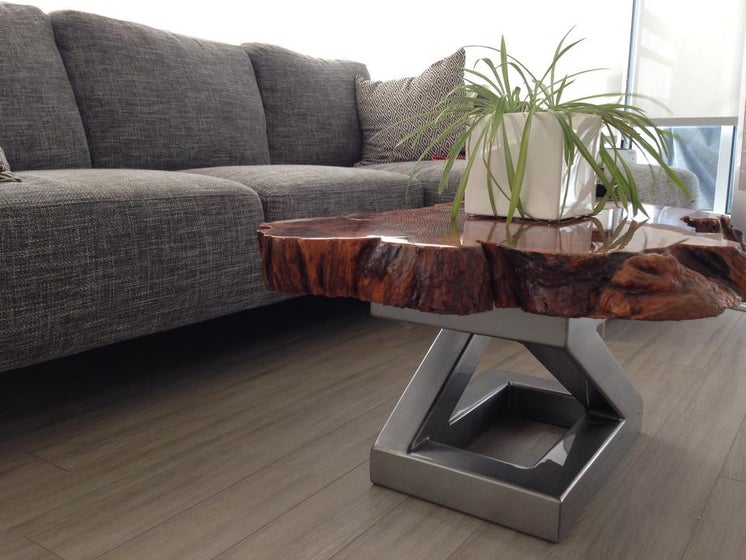 You mentioned that your work is very creatively fulfilling; can you say more about that?
The creative side of things allows me to express myself through the metal. I personally like to build custom vehicles, custom furniture, and stuff like that. So when I'm left to my own devices in the shop, I can get a little bit wild. I'm not really the kind of builder who starts out with a nice drawing or sketch because I can't draw to save my life; I just like to grab some metal and start putting something together with an end vision in mind. And it always makes its way there somehow. It's fun to see how a piece evolves. My style is a little more refined; I really work the metal, polish the welds. A lot of times when I make a piece, it's been welded in multiple spots. We blend and sand them out so that it looks like it's never been welded at all. My style looks like 'wow' and usually lends itself to a luxury look. 
What's the service or product you're most proud of?
One of my favourite things to build, even though it's kind of a love-hate relationship, is big hood fans that go into these luxurious homes. We've done a couple this past year that are huge! They're really large-scale displays for big houses. We've done a few brass ones that are just these monolithic structures. I love posting something on Instagram and having people say, "No, you can't do it; it can't be done with brass," or "It can't be done that way," because when you actually do it and show people, it feels really good. I also get calls and emails through the years where people tell me that they still love this big, massive piece of metal art in their kitchen — it's pretty cool.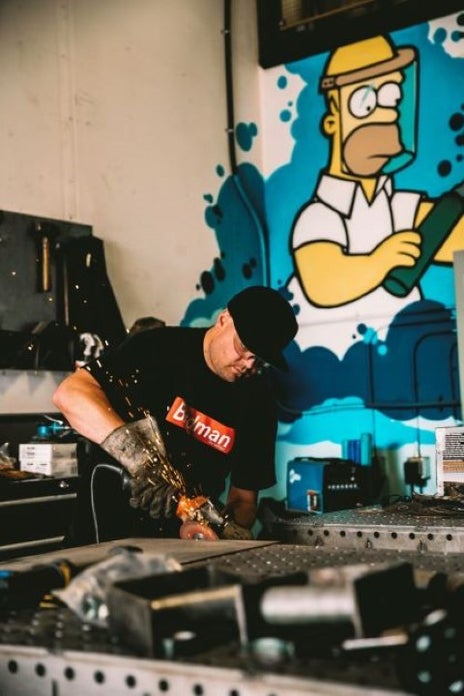 How do you feel about living and working in South Delta?
Most of my clientele is in Vancouver, but the local community here is so great for word-of-mouth and I've slowly been getting some traction in South Delta. Everybody has always been very supportive of us here. Our shop is in Delta of course, even though we're now a smaller team; it's just myself and my assistant in the office. We scaled way back after COVID, but to be honest I kind of like it this way. Not having to cross bridges or tunnels to get to work is nice. The local community is quiet and has a bit of a slower pace as opposed to the big city. I definitely love living here and working here.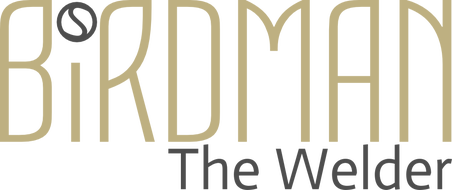 ---
Connect with Birdman the Welder on
Facebook
,
Instagram
,
YouTube
,
TikTok
,
Pinterest
or visit their
website
. 
Sign up for our e-newsletter
to receive customized South Delta real estate reports, community news, and more business + lifestyle features like these.
Interested in being featured or know someone we should feature? Please
get in touch
.