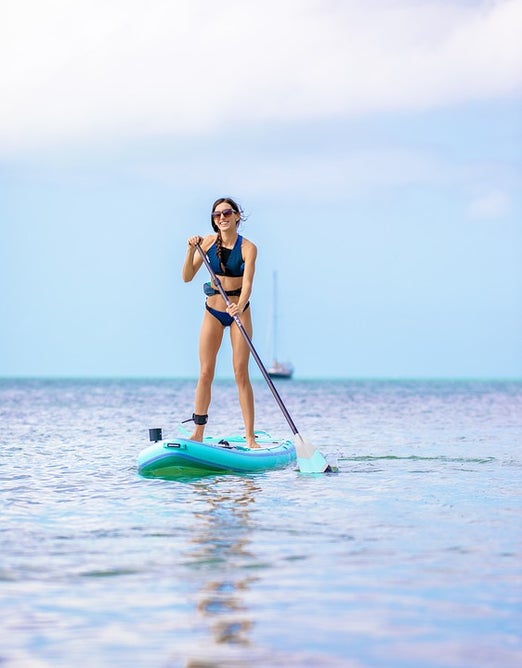 Featuring: Jennyfer Cassar,
South Delta Watersports
"We work, live, and play here! There's so much to explore in South Delta and we want to share a great way to enjoy our community with locals and visitors!"
Jennyfer Cassar is a self-professed 'gal about town.' Guided by her entrepreneurial spirit – she already owns another small business in Tsawwassen,
Nook Play Studio
– she jumped at the opportunity to create a business that celebrated the surrounding beaches and endless sunshine of Tsawwassen. We're all familiar with food, furniture, and mail delivery, but what if that convenience extended to paddleboard rentals? Paddleboards are a luxury often enjoyed only by those in close proximity to the beach, not to mention the space to store and clean them properly. Through South Delta Water Sports, Jennyfer bridged the gap to accessibility and created the opportunity for more people to enjoy the sport. Considering the abundance of water in the
Lower Mainland
to explore, she has built a beautiful community project and thriving local business, encouraging paddle-curious water lovers to worry less – and paddle more.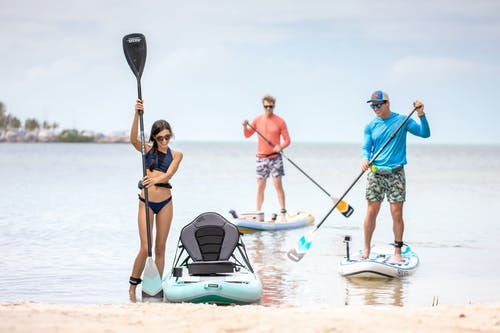 What inspired you to open your business in South Delta and how did it come about
?
It sort of started as a bit of a one-off a couple years ago. I had some inflatable paddle boards that I would either lend out or share with friends who run Airbnbs for when they had guests in town. I would just say, 'Oh, hey, if they want something to rent, I have boards!' It was through word-of-mouth and I rented them for quite cheap. Then last summer, we went to
Galiano Island
and I brought a couple boards with us. I got to talking to somebody who was visiting from the mainland and they were like, 'You know, that's a good idea,' and I thought…it is! By the end of that season, I was so busy with people going to
Buntzen Lake
and all the other lakes within a 25 kilometre radius or so. People would take them to Whistler, for example. So South Delta Watersports kind of became a thing.
Typically, paddleboards are not only expensive, but they can be difficult to store too. I also found that people usually wanted to go in pairs. So I began offering a quick service during COVID-19: no-contact delivery. It worked out really well because it filled the need for those that wanted to paddleboard and enjoy our local waters without committing to owning and cleaning the boards. So I kind of feel like we fulfilled something that people wanted but didn't necessarily know they needed.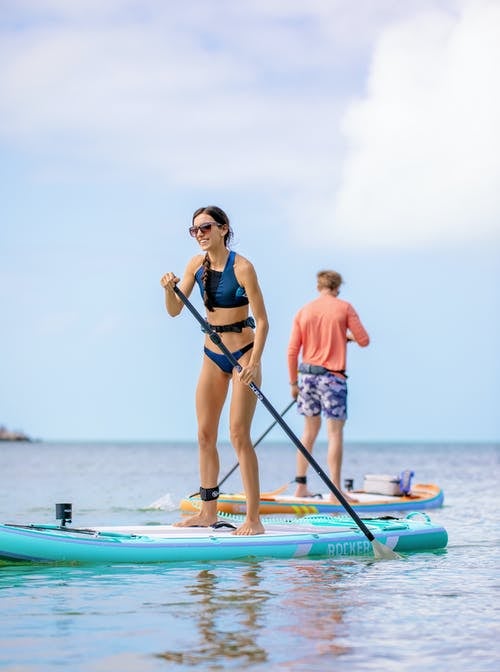 How does the process work once you get to the beach?
All of our paddleboards are inflatable. They're about the size of a big backpack. When someone comes to the site wanting paddleboards, we can do one of two things: drop them off at your front door and you can take it wherever you want to go, or meet you at
Deas Island
,
Centennial Beach
or
Boundary Bay Park
or the boat launch – really anywhere within South Delta. And then we can quickly help inflate them for you, and you're off! Or we can arrange a tour with one of our guides!
The guide is not an instructor; we don't have instructors. Our guides will take groups of up to eight paddlers to somewhere like "Gilligan's Island," which most people don't even know about! It's a small island off of
Westham Island
, and just one of the really cool locations our guides will show you. These places are accessible to everybody but if you're not comfortable with where you're going, or exploring on your own, it can be intimidating. For example, if a group of six ladies wants to go out but doesn't know where to go, our guides can take them to see some new locations. But, in terms of safety, everyone has to sign a waiver to ensure that they're at least comfortable on the water. Certainly anyone can rent a board but we want to make sure that people are feeling confident, so we will do a complimentary 'dry run,' if need be. It isn't a lesson on swimming or paddleboarding per se, but we do provide the highest quality boards and life vests, which helps our clients feel secure. Safety is, of course, important – and it's really exciting to find new places in your own backyard!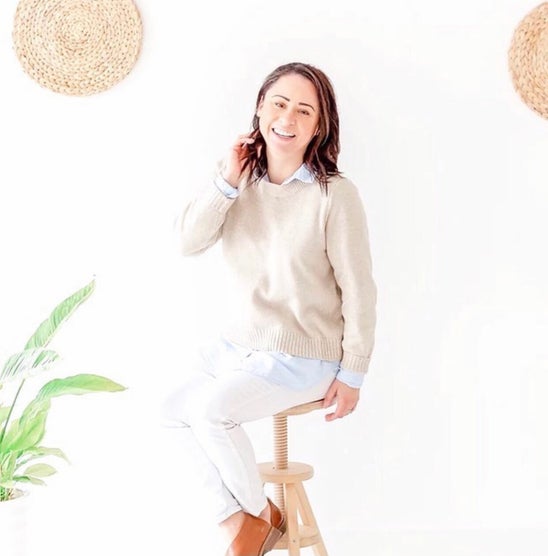 Can you explain your business philosophy and what a customer can expect?
It's really, really flexible. Most people opt for a full day rental because it's good value and then they can take the boards for a beach day:
White Pine Beach
,
Golden Ears
, or
Kits Beach
. A family of four can share two boards; it's really, really flexible for them. A lot of people also really enjoy it because it is hassle-free; you don't even have to clean them. You just roll them up and throw them in the bag, and we do the rest. We supply all premium equipment. These aren't secondhand boards; they're all the same fleet. We inspect them and power wash them every single time. So you're not getting some sort of dingy board dropped off – you're getting something that's quality checked.
Another thing to add is that we
host free
Paddle Meet Ups
every month! All paddle enthusiasts are welcome, but we, of course, rent to anyone who wants to join. It's a really great way to get on the water and connect with other locals who love to paddle or are curious. That's one of my most exciting recent additions to the community.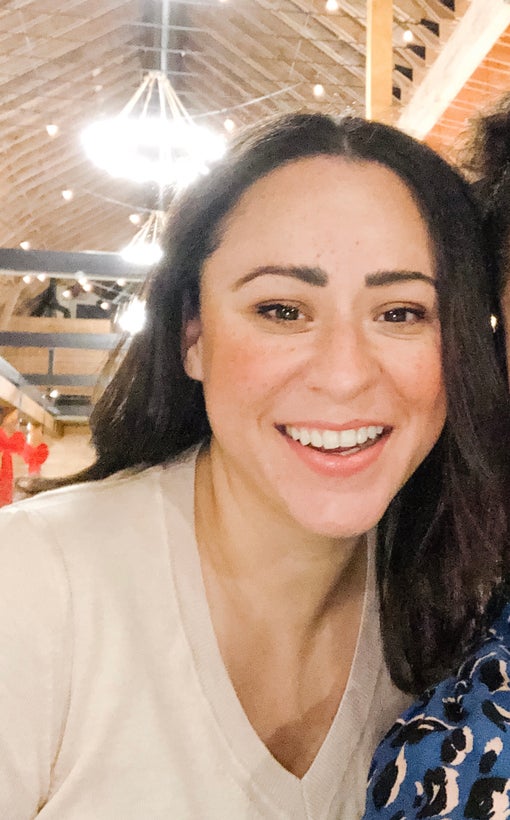 What do you love most about South Delta?
I work here. I live here. My children go to school here. We live in such a great location that I just felt like opening my business here in South Delta made perfect sense. I volunteer a lot within the community, like with kids' sports organizations, and I'm on the committee for the
Sun Festival
. So I just knew that if I were to open this little business, I'd feel the support of the community. They don't call it '
sunny Tsawwassen
' for nothing! Why not take advantage of the best of what we have to offer? The sun is one of the things I love about being here; it seems like a perfect location, and I love that it's surrounded by water. I also love this community because it's really small — there's one way in and one way out of this town. So you get to meet a lot of people and see familiar faces often. And there's tons of support for small businesses here, particularly women-led businesses.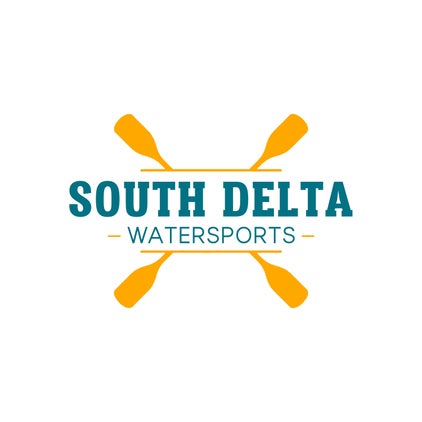 ---
Connect with South Delta Watersports on
Facebook
and
Instagram
, or visit their
website
.
Sign up for our e-newsletter
to receive customized South Delta real estate reports, community news, and more business + lifestyle features like these.
Interested in being featured or know someone we should feature? Please
get in touch
.