Featuring: Melissa Beaupre,
Swing Thing
.
"
I love living in South Delta and raising our two little girls here. I love the community, the beaches, and the parks. I feel so lucky to call this place home!
"
Digging through blankets stuffed into her baby bag, Melissa Beaupre was frustrated that she had to pack something so bulky to help support her daughter in the swings at her favourite South Delta parks. Her problem needed a solution, which got her chatting with her mom Debra about a possible new business venture: launching a product that allows all children to comfortably use park swings. However, when she suddenly lost her mother, grief put nearly everything in her life on hold. She focused solely on raising her two growing girls until a few years later, when she felt a calling to complete the mission she'd barely started with her mom. 
In 2016, Melissa rapidly designed, prototyped, tested, refined, and patented Swing Thing, all within four months. We spoke with her to learn how she found the strength and motivation to start a business after dealing with loss and what it took to manufacture a product from her home in South Delta. This mompreneur now works full-time as an educational assistant focused on special needs while simultaneously finding the time to make her business a priority. Thankful for the support of her husband and the rest of her family, Melissa is motivated and excited to grow her company. Seeing children in the Swing Thing when she visits popular local parks makes her smile, as she measures success by the positive impact her product has on the community.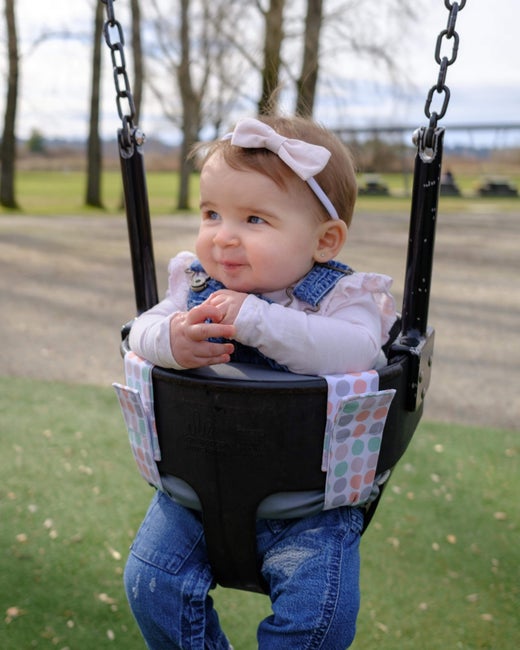 Swing Thing is a
one-of-a-kind multifunctional insert that helps stabilize infants while they swing, sit in high chairs, or ride in shopping carts.
It has two velcro straps that attach at the front of a swing, high chair, or shopping cart, and one large adjustable strap that goes around the back of the child. Essentially it keeps kids secured to the front of the apparatus so that there's no space behind them and they're not flopping back or wobbling about.
It's one-size-fits-all and designed to be compact; it rolls up into a small cylinder. It can be used as early as kids gain independent neck strength, which generally comes around three-to-five months, but you can adjust the size to fit a three-year-old if needed. So the earliest use of the product is usually in a bucket swing or an exersaucer—one of those little stations that lots of families have at home. It can also be used in high chairs, shopping carts, or swings for a very long time, which is one reason it's useful for children with special needs. Many parents with children who have Down syndrome or Hypotonia use Swing Thing because those kids generally have lower muscle tone. It's actually been recommended by a couple of physiotherapists for children who need the added support, which is really awesome because I work with special needs kids, and it makes me really happy that it can help diverse children.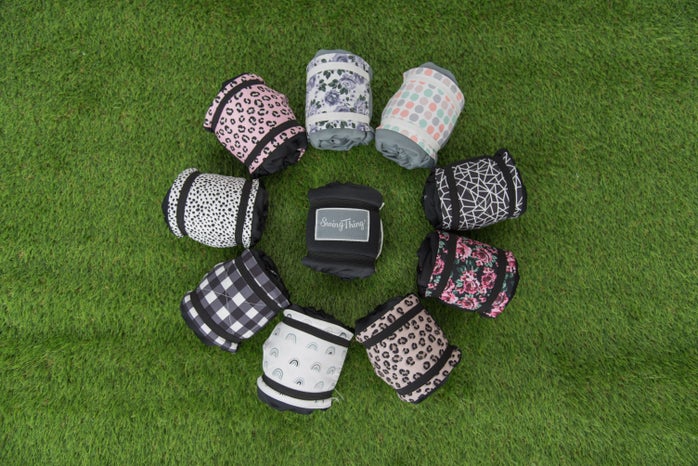 Tell us how Swing Thing was born.
Well, I have two daughters; in 2013, when my first one was a baby, she was very strong but didn't totally have the ability to sit upright. When I'd take her to the park and put her in the swing, she couldn't quite hold herself steady. So I kept packing all these extra blankets to kind of shove in around her so she could enjoy the swing without flopping all over. After doing that for about three or four months, I started looking for something, partly because I was annoyed when I went into my baby bag to grab something and everything was covered with the blankets. I always went to the park with my mom; she was my best friend in the world and an awesome grandma, too. Together we started searching to see if there was something out there that could solve our problem. From what we could see there was nothing, so we started chatting and kind of joked about inventing something. I thought it was a really good idea and told her I'd sketch some ideas. Then my mom came up with the name, Swing Thing, which was pretty cool; I loved it. That's basically how the project got started. 
But then, in 2014, I suddenly lost my mom. It was really tough, and the tragedy just stopped the whole idea. I couldn't even think about doing it. A couple of years went by and I found myself thinking about it a lot again. One day in 2016 I just woke up and decided I was going to go for it. It was very tough for me to navigate the grief, but I just knew that there was a bigger plan for me, and that God had a plan for me. Somehow I felt motivated; it was literally out of nowhere. It was almost as if a voice was telling me to get up, get moving and do it—I don't know how to explain it. That day I got started, and I haven't stopped since.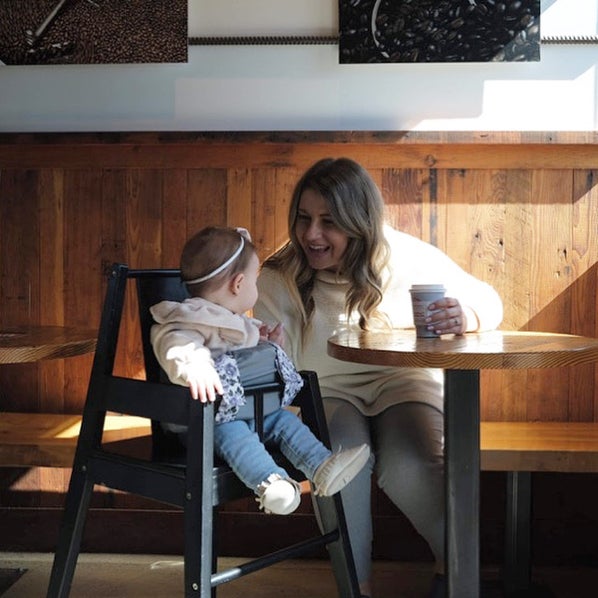 It's incredible that you found the motivation. What steps did you take to launch Swing Thing?
I had no experience in anything, but I started by glue gunning random materials together in my house. I went around the Lower Mainland and measured 100 swings to figure out the dimensions, then started gluing and creating and pulling from different baby products. The glue gun prototype I made worked well, so from there I started reaching out for help. I had a friend who'd started a clothing company, so she gave me contact info for a well-known pattern maker in Vancouver. 
Next, I did a massive amount of sourcing and manufacturing research. For example, I needed to figure out the proper foam density because I realized it couldn't be too hard because it would hurt the baby and couldn't be too soft because it wouldn't support them enough. I was going to all these foam stores and pressing foam between my stomach and a wall to see what it would feel like. I ended up figuring out what I believe to be the perfect composition and I ordered a significant amount of it, then had it cut into the proper dimensions to fit into the casing. I also researched fabrics, because I wanted fabric that was safe for babies. It needed to be BPA-free and lead free and washable and water resistant—all the things that moms want! So I looked into all the fabrics that could meet those needs but wasn't too stretchy because then it wouldn't hold its shape properly. When I found a fabric I liked I went with that. The first bunch I made cost a lot because everything was top-of-the-line stuff purchased from stores, but I was just figuring out how to source the best I could at that time. I got the Swing Things made by a seamstress and trialed them on a number of babies of different ages and found that they functioned perfectly! 
From there, I found a company called
Peak Apparel
, which to this day I still credit for my success. It's owned by a local guy, also from Tsawwassen, and he basically really liked my product and said, 'I want to help you. I'm going to set you up with people to source your stuff more affordably.' I wanted to keep manufacturing in BC, so he put me in touch with a private factory in Vancouver. I got really lucky, because nothing's cheap here at all; it's still very expensive compared to overseas production. So again, me insanely searching for people to connect with was the key. I've been using the same team ever since; I still source all the materials, but they physically sew them for me, because I don't have that skill set. 
I also realized that I'd invented something and needed to protect it as best as I could, so I met with a patent attorney lawyer. Together we patented the product for Canadian design. It got approved and I started selling it all over the world! Now I officially have a Canadian and a US design patent as well as a trademarked name.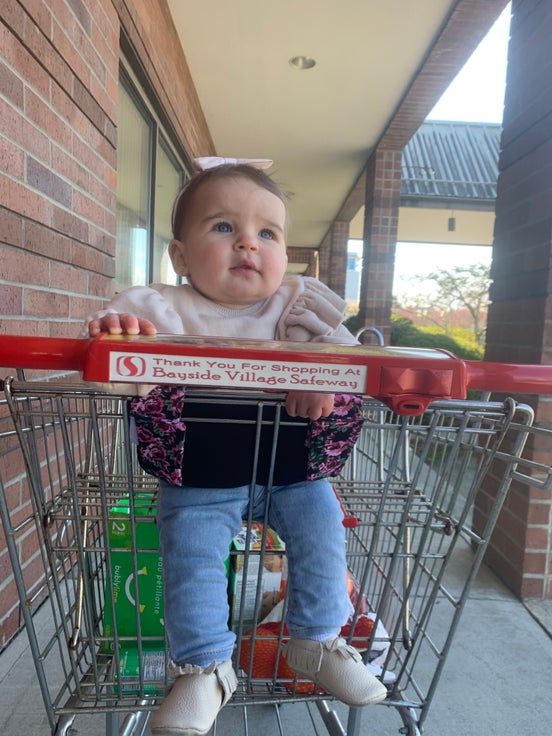 What inspired you to open your business in South Delta?
I'm from South Delta, and between growing up here and raising my kids here, I've spent time in every single park. I was a stay-at-home mom for eight years when my kids were babies. Honestly, sometimes I'd go to up to three parks a day. I would just walk the town, trying out all the parks—
every
park.
We're lucky to have so many here
. Most of them had a bucket swing and my kids wanted to swing in all of them. So like I said before, that's what motivated me to make it, and I was invested in doing it in South Delta because I wanted to be close to home. I wanted to run my business as much as I could out of my house so I could continue being with the kids. And South Delta is such a supportive community; right off the bat I had lots of friends that were eager to support me, and they all bought Swing Things as baby gifts. I wanted other moms in this awesome community to be able to enjoy what I did: going to local parks or visiting the tons of great restaurants we have with their kids secure, stable, and comfortable.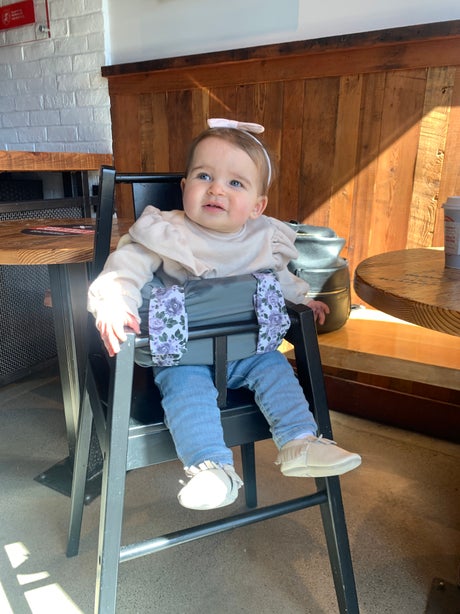 In addition to Swing Thing, you're balancing a career and parenthood; what keeps you focused and driven?
You know, even while I'm raising my kids and working full-time as a special needs assistant, the passion is still there. A lot of it is pride. I had a plan, and I did it. I remember how hard it was to do everything with the two babies at home and how difficult it was to figure it out without my mom's support. Knowing how hard I've worked keeps me focused and encourages me to keep going. I won't quit because, like anything in life, there are times when things flourish and when they drop. There are ups and downs even with the biggest of businesses. And so I just keep reminding myself even if it's not absolutely killing it right now, it doesn't mean it won't. I've put too much into it to bail out. Every time I think about it being hard, I remind myself that I did it when my babies were little, and when my grief over losing my mom was more immediate—which means I can definitely keep going now. I try to continually push myself to keep posting on social media and to keep advertising and telling people about it. Honestly, I don't want to quit on something that took so much of my heart to build, plus it's something that I started with my mom. I love that the name she came up with has carried on. I'm so proud that I invented something, and I know my mom would be proud, too. Honestly, my girls are also really proud of me. They're already asking if one day they can take over Swing Thing and I'm like, 'uh it's really not that big…' but they think I'm just amazing for inventing something.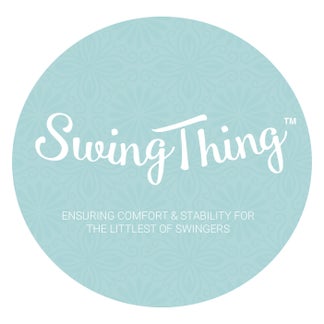 ---
Connect with Swing Thing on
Instagram
,
Facebook
,
TikTok
, and
Pinterest
, or visit their
website
.
Sign up for our e-newsletter
to receive customized South Delta real estate reports, community news, and more business + lifestyle features like these.
Interested in being featured or know someone we should feature? Please
get in touch
.