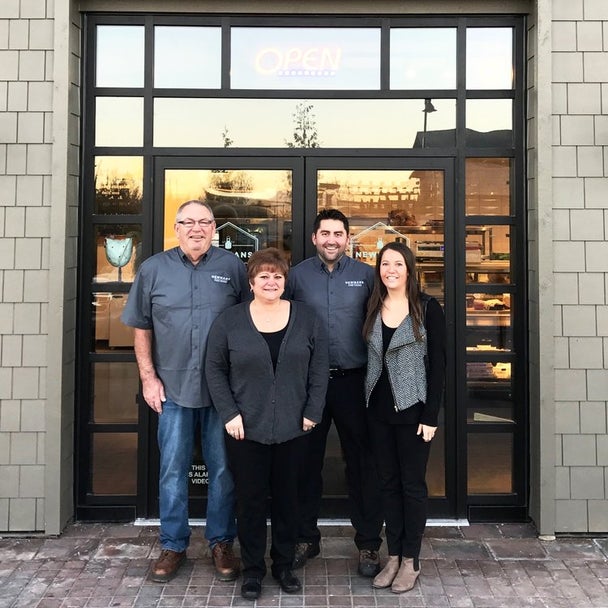 Featuring: Heath Newman,
Newmans Fine Foods
.
"
We
chose South Delta because of the community. The people that live here are tremendous, and we wanted to go to a place where community is at the forefront."
A South Delta business he recommends:
L'Aromas Bakehouse
He may not be the butcher, the baker, and the candlestick maker, but Heath Newman, owner of Newmans Fine Foods in Tsawwassen, BC, is the man that orchestrates it all behind the counter and behind the scenes. After dabbling in the butcher business at a young age, the former helicopter pilot took flight in his career as a store owner when his family opened a Tsawwassen shop in 2016, adding a second location to the family business, the well-established sister store Seafair Gourmet Meats in Richmond. Hustling as the self-proclaimed shop grunt at Seafair during his teenage years, Heath quickly learned the work ethic and has since honed the multiple skills needed to operate a store. Now, he's still in apron, bouncing between taking meat orders, helping customers at the till, slinging dishes in the deli, and doing whatever else needs to be done. He says it's never a dull day, especially when you're working with family. In addition to working in partnership with his mom, Heath is busy raising two young daughters with his wife in a community they love. We spoke with Heath to discuss the benefits of dry-aging beef and how he likens customer service to the sitcom
Cheers
. While the nature of the business is demanding and always shifting, Heath thrives in that environment; he's happy to sink his teeth into his role and encourages his staff to connect with the food they're selling as well as the customers they're serving.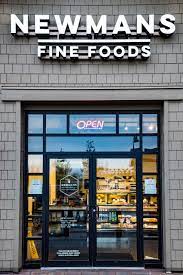 What sets Newmans Fine Foods apart?
I would say it's our customer service and involvement in the community. That's at the forefront of what we value. When you walk in, you're not just another number. I want you to feel like you're in
Cheers
, the old TV show, where everybody knows your name. We try to give you that personal feel, rather than some inexperienced young kid blankly asking "What do you want?" I want my employees to care about what they're selling and care about the customer—because ultimately they're the ones paying their paychecks and keeping the lights on.
Beyond our customer service, our niche market also separates us from everyone else. We're essentially set up as a butcher shop and deli, but we've also brought in some nice fine foods at the front-end—we carry a variety of local products, like olive oils and fresh bread from
L'Aromas Bakehouse
, which is literally up the road and around the corner. We make hot sandwiches and soups in-house, too. We have a menu of five or six options, including a hot chicken club, a meatball sandwich, a cheese melt and a special—it could be something like pulled pork—that changes every day. We also make salads in-house, like our quinoa salad, and there's chicken or roast beef paninis. And there are pre-made meals like spaghetti bolognese with meatballs or beef stroganoff that people can take to go. So we're curating and creating for the customer to be able to get high-quality, locally-sourced products. 
We care a lot about serving our customers the highest quality products and meats, so we ensure that everything is sourced from local, ethical, and sustainable farmers.
We make all of our sausages in-house, and our pork, chicken, and beef all comes from the Fraser Valley. That's our M.O.—getting as much as we can from local farmers. As butchers we do custom cuts too; so if you need a specially cut or extra large tenderloin or prime rib, no problem. Just give us a call and we'll take care of it for you!
Let's talk about the fact that you have two locations

. 
Why did you set up the second store in South Delta?
Well, my family owns
Seafair Gourmet Meats
in Richmond. Our next door neighbours actually used to own it, and I've been working there since I was 15. It was first established in September of '83, then my parents purchased it in 2010 when our neighbours moved to Kamloops and started another meat shop.
When the timing was right for a second location nearly five years ago, we looked at a few different locations, but we chose South Delta because of the community. The people that live here are tremendous, and we wanted to go to a place where community is at the forefront. We wanted to be part of the South Delta community we love. 
The Richmond store is more of a traditional classic butcher shop, as it has been for nearly 40 years, whereas Newmans' is more of a butcher shop and deli. We have everything that Richmond has, plus more. We felt our brand needed to expand, so that's why we broke brand and chose a different name for our sister location.
What inspired you to stick with the family business?
I sort of grew up in the business. My dad had a logging company; he was in the logging industry for a long time, so he's never really been a part of it. This is more or less my mother's and my business. My mom, Melinda, was working hard as a regional manager at Gymboree, a kids' clothing store; she was responsible for Western Canada when the opportunity to buy Seafair came up. She wanted to stop working for someone else and work for herself, so we decided to jump into it. The rest is history, more or less. We work together furiously to get everything done. I couldn't do it without her; she's a huge help and great business partner. But working with family is very unique; it's a challenge and not everyone can do it, but we find a way and make it work. 
Previously I was a trained helicopter pilot. I was doing that for a long time before I found out I have a medical condition that prevents me from flying. But this is where I'm meant to be now. I mean, I started working in the shop when I was in high school. I worked as counter help after school; I'd do dishes and help them clean up, just kind of being the store grunt, so to speak. I started at the bottom and worked my way up, learning how to use my knife, first with deboning chicken breast, and then they'd give me a little bit of pork to do. Eventually I left and did my flying thing, but this fell into my lap when that didn't work out. And everything came back to me, I learned a whole bunch more, and it became another passion of mine; now I love it. 
What keeps you showing up every day?
Well, I've got bills to pay! But seriously, it's never the same; I think that's really the thing for me. I'm not one for the monotony of waking up and going to do the exact same thing every single day. There are so many challenges thrown at you all the time. It's like "is this taken care of? Okay, that's done. Now we're down this guy, this guy is on vacation, okay I'll jump into his spot." It's constantly evolving and changing. There's never a dull moment, that's for sure; it keeps me busy and makes me feel alive. Honestly, it's a bit like you're on a soccer field and you're the goalie, forward, defender, and you're the wing. You're everything! You're jumping around all over the place.
Of course, food is something we take very seriously, too. We all like to eat. So trying new things, revisiting favourite recipes, and cooking in general is a passion that drives me. I've always loved it—who doesn't like having a good meal, right?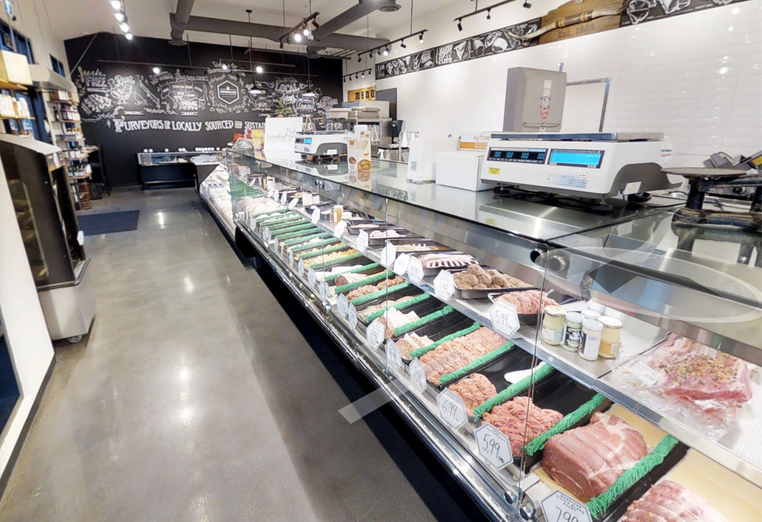 What products or services are you most proud of?
I think the product we're most proud of is our dry-aged beef, just because of its uniqueness. We do it a lot, and many others don't anymore. We bring whole carcasses in from northern BC and age the meat in the back the old-fashioned way, so to speak. It's like
Rocky
, you know, with the beef hanging from the ceiling? We're one of the few places that still does that, and I believe we're the only place in South Delta. It's the traditional way to do it and it takes longer, but it produces a far better quality product. At most grocery stores you see everything in a bag, which is wet aging; part of the reason for that is because you lose more product when you dry-age it, because you need to cut off the excess age on the outside. We age our beef for 21 to 28 days. If you were to eat a piece of beef right after it was slaughtered, it's not going to be very tender; but the longer you age it, the more time the enzymes in the meat have to break down, and you get a far more tender, flavourful product.
We're known for our ribs, and our dry-aged ribeyes. They're one of our signature steaks and my personal favourite; you can't buy them in too many places and they're fantastic. Depending on the size of cut you get there are different options, but generally there's a higher price point due to the way it's prepared; you're paying for the cut of meat before it's dry-aged and put on a plate, but once you taste it you definitely don't mind! It's quality over quantity.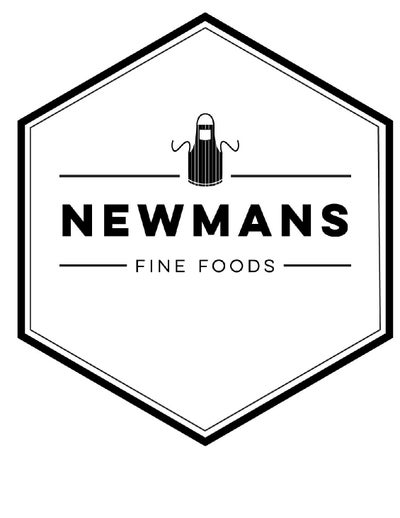 ---
Connect with
Newman's Fine Foods
on
Facebook
and
Instagram
, or visit them at #105 - 5188 Springs Boulevard in Tsawwassen.
Sign up for our e-newsletter
to receive customized South Delta real estate reports, community news, and more business + lifestyle features like these.
Interested in being featured or know someone we should feature? Please
get in touch
.