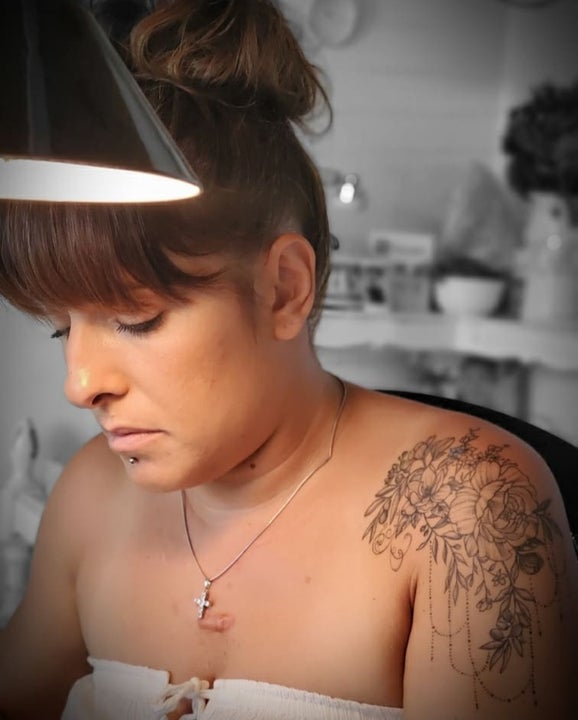 F
eaturing: Antonia Adamopoulos,
Meraki Studio Co
.
"
I was born and raised in SD and now I'm raising my kids here.
Ladner's tight-knit community is amazing! I feel supported and nurtured, which is something I truly value in life and business."
A South Delta business she recommends:
Hygge
.
Self-care can mean many things, but for some women, it's the simple delights that can feel most decadent. Many enjoy taking pleasure in freshly done nails, for example, or getting made up before going out for a delicious dinner at a favourite South Delta restaurant. Meraki Studio Co. has been championing self-care and nurturing relationships with clientele for eight years. Entrepreneur and aesthetician Antonia (Tonii) Adamopoulos says her motto is ingrained directly in the company's name: Meraki is a Greek word meaning doing something with soul, creativity, or love. Tonii certainly pours her heart and electric personality into her business, treating women to professional services for competitive prices. Trying new things and treating every client like it's her only one has resulted in a booming business, even if she never imagined being self-employed. We spoke with Tonii to find out why it's her goal to cater to the hard-working woman and how she's transformed her Ladner home-based business into a successful career.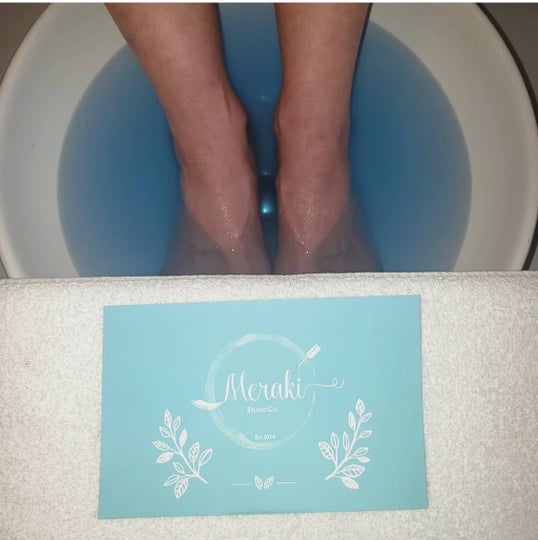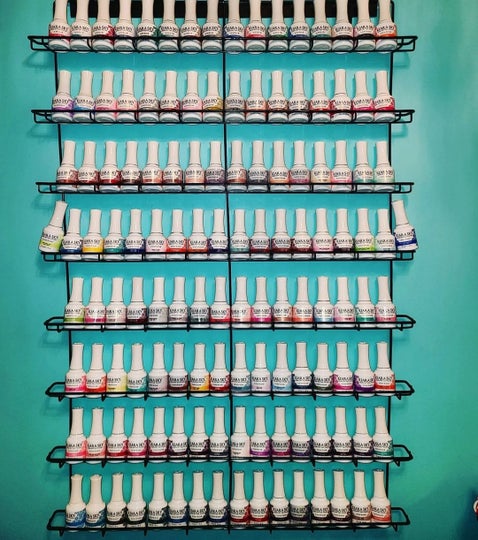 Tell us about your expertise and the clientele you cater to.
I've been an aesthetician since 1998, doing all things aesthetics and then some. I lift and tint lashes and do nails, nail art, pedicures, facial waxing, and makeup. I also just finished taking a lip blushing course, so that's a cool new thing I've added to my roster. 
I grew up in the industry; my mom and dad owned a salon in Kitsilano for 40-plus years. My mom's a hairdresser, my dad's a barber, and my sister's a hairdresser, so I am 100% the black sheep of the family because I decided to become an aesthetician. I think my favorite part about the beauty industry is summed up in my business name, Meraki, the Greek word that means putting a part of yourself into your work and loving what you do. Because I love it! It just makes me so happy to treat people! When someone comes in and they've had a shitty day, and I do their pedicure or their manicure or whatever, and they leave so happy, I feel like that's payment enough. My prices are very competitive because I want everyone to come in for treatments. Growing up in the salon in Kitsilano—a very posh neighbourhood—I would mostly see women with money coming and getting their nails or hair done. Then I would see these other women: hard-working moms and ladies, and I wanted those women to get their stuff done too, because I felt like they'd appreciate it more. I never wanted people to have an issue about money because self care is so important. That's why when I started out, and still to this day, I do my best to cater to women from all walks of life. It's such a small thing, but it makes a big difference in women's lives, it's crazy. Your life could be falling apart but you could still feel like, 'At least my nails look good!'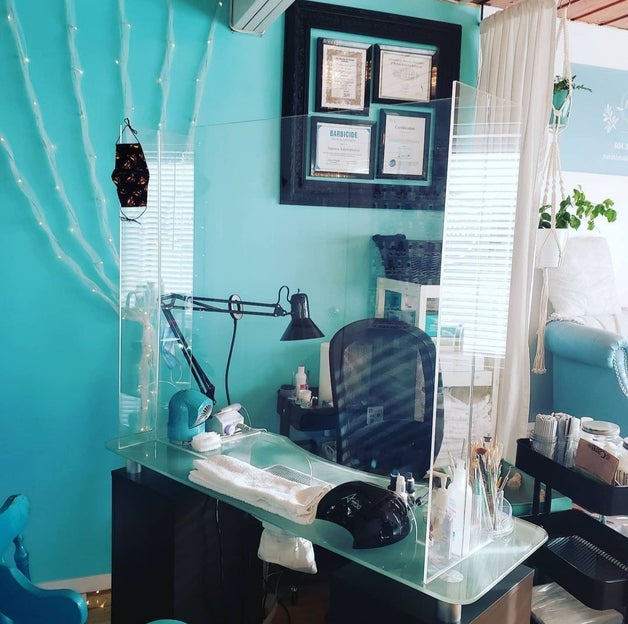 What inspired you to pursue aesthetics, especially since hairdressing was in your blood?
I love being artistic with my work and how my clients always keep me on my toes by asking me to try new things. I also love to learn new techniques, and am always updating my skills. I am mostly self-taught. When I studied nail art, it wasn't really a thing; the extent of it was basically sticking on a jewel. It's so funny because my clients will say, 'So, I saw this nail art thing on Pinterest.' And I'm always like, 'Pinterest! The bane of my existence!' I hate it because half the stuff that you see pinned are stickers. A client will still ask if I can try something like it and I won't say no, unless it's ombré nails. Doing ombré nails with gel polish (and not acrylic) is like my kryptonite! I can paint an entire scene on one nail. I can do Disney characters like Ariel on a rock. I can even wing it; one girl showed me a picture of her poodle and I went for it; but if you ask me to do ombré, that's not going to happen. I am a bit of a perfectionist and so if it's not perfect, that's a hard pass. 
My favourite part of my job though is the tight relationships I've built with my clients. A session with me has been likened to therapy. I used to have a sign—before I changed my window shield—that said 'Welcome to your therapy session, I mean nail appointment,' because it's true. It's a safe place, and women open up to me, as I do with them. I get to know all the good stuff, like when someone's pregnant or when they think the boyfriend will  finally pop the question, while we do fancy nails! It's so cool and I feel so lucky. The best piece of advice I ever received was from my Dad; he said, 'the only way you'll be successful is if you treat every client like it's your only one.' And I do that. I want my clients to know that I care a lot, and I think they recognize that. I think they'd say—and it's true—that I'm not about money. I love what I do because it feels good to give back and see my client's faces light up.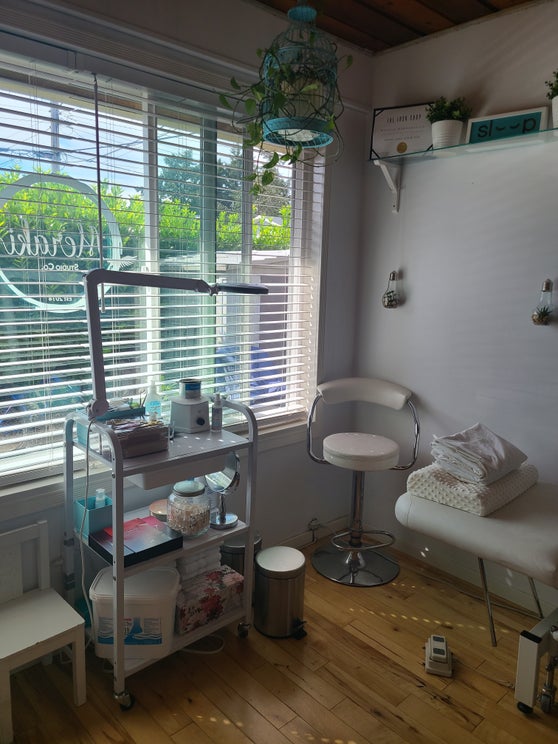 Why did you choose to run your business from home?
Because I want to be home and available for my kids. So if they come home sick from school or if they forget their lunch, I'm here. It was almost like it accidentally happened; I was on maternity leave and thought 'I'm going to open a little home-based business to do nails a couple days a week and we'll just see how it goes.' The goal was still to get a full-time job and have my steady paychecks coming in, but within six months, it was a business! 
I never wanted to be self-employed—
ever
—because my parents had the salon and my dad also had a construction business. So, growing up with parents who are self-employed. . . well, we didn't have medical or dental coverage. You know, there were slow months. There was the stress of not knowing, and of having to be careful with our money. I was like, 'Ew! This is not for me!' I wanted the control of getting a paycheck every two weeks. But after I had my daughter, I wasn't feeling fulfilled in my work. For years, all of my friends asked why I wasn't doing nails, because I was so good at it. But in Ladner and Tsawwassen there are nail salons on every corner, popping up everywhere all the time—there's huge competition, so I was scared. At the time, I lived in an old '70s Ladner house where you walk in the front door and there's a little foyer, with an adjacent bathroom and stairs going upstairs. So I literally just started; I set up right there in my foyer, a 6x6' space, with my old manicure table and light, and 10 gel nail polishes and that was it. I was like 'okay, let's see what happens!?' And it took off like crazy! At first I was only doing it a couple days a week, but within six months I was full-time and fully booked. It was so crazy I made myself available seven days a week, just to build up my reputation. I was taking clients on Sundays at 9 a.m. and Wednesdays at 9 p.m. I knew I needed people to come in and just meet me, see me, and see my work; I knew they'd come back. Because when you come to Meraki, you're part of the cool club! Just so you guys know,
all
the cool kids come here! Now I only work Monday to Friday, and I have a proper space with a separate entrance that's still attached to my cute new home. And those lulls? Those months that were slow for my parents? I haven't had that yet.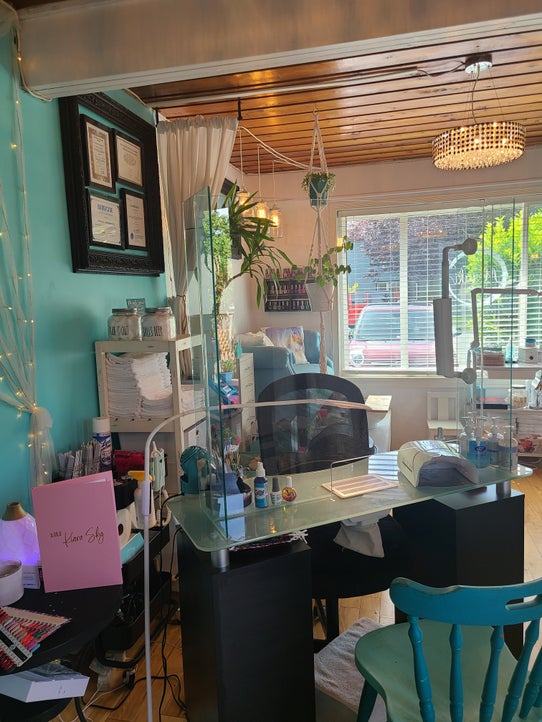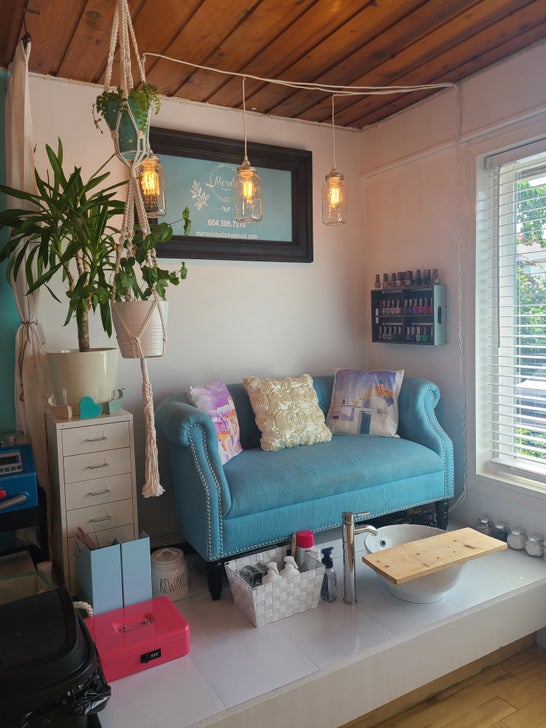 What attracted you to establishing your business in South Delta?
I chose South Delta because the community is amazing. I grew up here. And now I'm raising my kids here, and I know a lot of people, so I always feel like I have support. My kids can't go anywhere without having a friend or family member's eyes on them and that feels safe. Mom's got eyes everywhere, ha! My kids actually call me the 'Mayor of Ladner' because I can't go anywhere without talking to a billion people. Ladner's tight-knit community actually reminds me of the environment in Greece, where I spent every summer of my childhood. People take care of each other there, and I relate to that—I love to nurture; I've always been that person. If something is happening in the community, everyone rallies together. You don't even have to know the person, but if someone's in need—done, we're on it! And that extends to my clients too. I'm so lucky to have the most incredible clients who give back so much. During the COVID-19 lockdown, I was closed for three months; it was terrifying, but I have never felt so loved by my clients; they rallied for me, buying gift certificates and dropping off groceries and toilet paper (because, you know, that was a thing!) I'll never forget it. I feel so fortunate to be servicing my South Delta clients. I'm always grateful they chose me—shout out to you guys!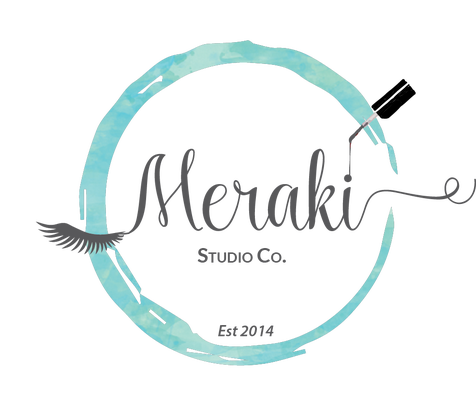 ---
Connect with Meraki Studio Co on
Facebook
or
Instagram
or book an appointment at the Ladner studio
here
. 
Sign up for our e-newsletter
to receive customized South Delta real estate reports, community news, and more business + lifestyle features like these. 
Interested in being featured or know someone we should feature? Please
get in touch
.