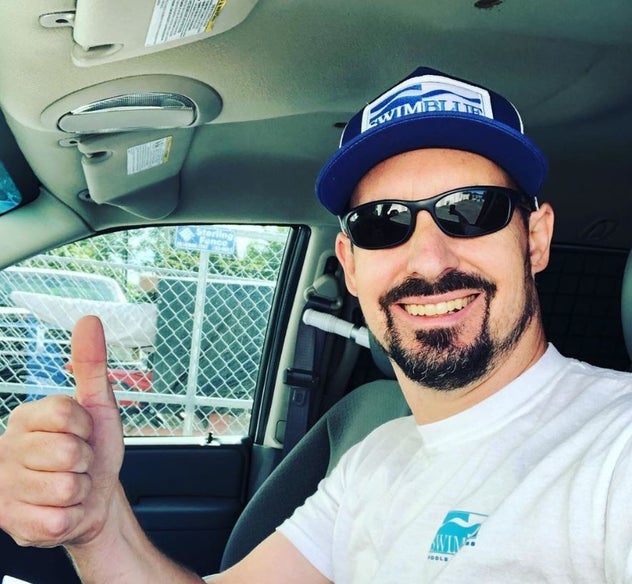 Growing up with a swimming pool has had a lasting impact on Jason Kovacs, Vice President of Swim Blue Pool and Hot Tubs. With South Delta's pool experts Steve and Linda Kovacs as parents and fond memories of backyard shenanigans and competitive swimming, a career in the family-owned business was a natural choice. Jason joining the company a few years ago has reinvigorated his dad Steve's devotion to serving South Delta communities from Swim Blue's new Tsawwassen location. Steve has provided pool and hot tub services since 1972; while in university, he and a friend got their start cleaning pools. Now, 47 years later, Steve and his wife Linda find themselves still in the pool business and in love with South Delta, where they have lived for over 30 years. They're honoured to have been voted the Best Pool Service Company in Delta for the past 22 years, the Kovacs family remains passionate about delivering personable service and making work a pleasure.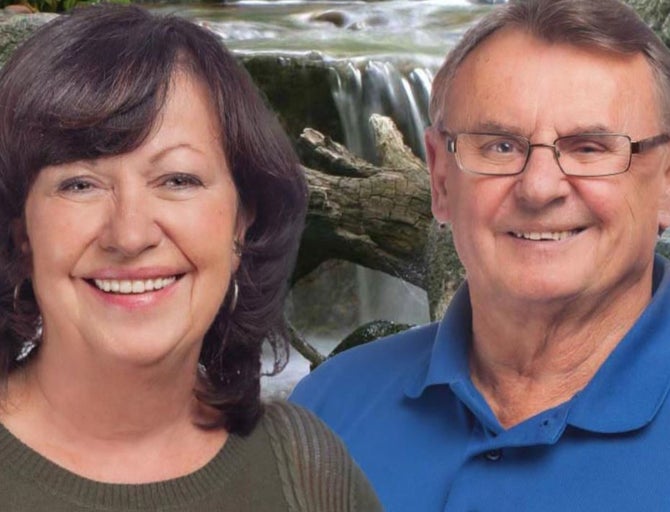 Tell me about how the business started.
My dad Steve started the first version of Swim Blue when he was in college in Edmonton. He was a competitive swimmer and member of the Canadian National Water Polo team. He and a friend started by cleaning, repairing, and building pools - they even brought the first wooden hot tub to Canada from California. Eventually they moved the company to the West Coast where in the 90s they opened Swim Blue Pools & Hot Tubs. It was out of his house in Tsawwassen at first, but when Pond's Pools shut down, he took over that space - right next to Petra's. Swim Blue operated there for five years before moving to Ladner, where we were located for 20 years. The extra space in Ladner allowed us to distribute pond equipment and focus on building ponds; during that time we started Waterscene Design to accommodate the pond, water feature, and water garden business. Twenty years later, the water garden distribution side of things has slowed down so we didn't need the large storage space anymore. We still install water gardens, pondless waterfalls, water walls, etc. and sell equipment to retail customers.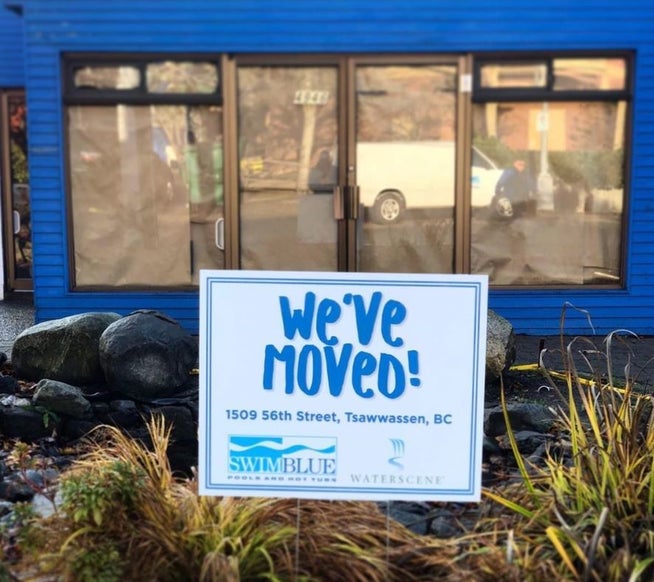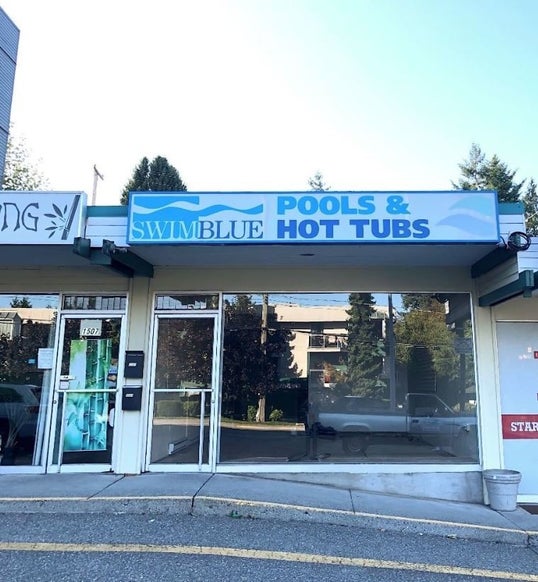 After 20 years in Ladner, what made you decide to recently return to Tsawwassen?
We had a large warehouse and didn't need all that space any longer. We decided that if we were going to downsize we should consider a move back to Tsawwassen. Swim Blue is now located on 56th Street; it's a smaller space, but offers great visibility and is perfect for what we need! We're happy to be back where we live, where we started the business, and where most of our customers are. It's been fun to say, "hey, we're back!" And it's also been really exciting to see customers from years ago that hadn't come into the Ladner store. But we want to stress that we're still serving both communities. Our Ladner clientele has been supportive of the move, with clients often stopping in while running other planned errands in Tsawwassen.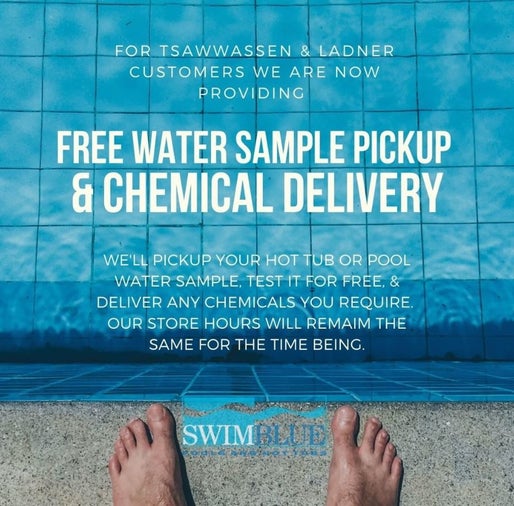 Can you touch on the services Swim Blue offers?
Services include: cleaning, repairs, chemicals and equipment sales, and an education and training package on how to maintain your hot tub or pool. We also offer free water testing: bring in a sample (or drop it off with your contact info), and we'll print out a report to tell you exactly what chemicals you need. Our weekly maintenance packages include cleaning, chemical top ups, equipment checks, etc. We also provide one time cleaning and setup for opening your pool for the season. The best thing for people to do is to contact us for a free quote for our services.

It's best to keep maintenance going year-round, like you would with your car; the pump is always running and you don't want debris build up wreaking havoc on your mechanical components. It's also important to keep your chemicals balanced so that the equipment doesn't deteriorate and cost you money in replacements. However, we reduce service visits to twice a month in the winter. Lastly, if you're thinking of buying a home with a pool, we highly recommend an inspection to make sure you're informed before buying. Swim Blue offers both verbal and written inspections.
Thanks for bringing that up; a pool can be an attractive selling feature but some people may not understand the cost of owning and maintaining a pool. Could you expand on that?
A lot of people ask what it costs to heat a pool. It really depends on the type of pool, size, type of pump, and how it's heated. Typically, gas will cost around $150 - $200/month during the summer. I've had some clients heat their pools for New Year's and because the ground around the pool has to be heated, it costs closer to $300. Heating a hot tub costs on average $30 per month.


Switching gears a bit to address the current COVID-19 situation - how has your business adjusted?
Thankfully, we are still operating. Our services are uniquely positioned so that we aren't required to see clients when we are doing maintenance, repairs, and cleaning. We have, however, reduced our hours to 11 a.m. - 3p.m. Monday to Saturday. We just set up online ordering for cleaning and disinfecting products, and that includes free delivery or curbside pick up. We are encouraging people to utilize that as much as possible to stay safe and contactless as much as possible.

Great to hear you've been able to adapt. Do you have any plans for further growth?
We thought about offering services in other areas, but have decided to focus only on our client relationships within Tsawwassen and Ladner; we've intentionally scaled down our business, although we do collaborate with a few independant guys that work out of their homes.

What inspired you to join the family business?
Swimming and pools have been a part of my life since I was born - we always had a pool and hot tub. My two brothers and I were into competitive swimming with the Boundary Bay Bluebacks and the SDSS swim team. I remember delivering Swim Blue flyers for my dad as a kid - this has truly always been a family business.

I understand you lived in the U.S. for many years. What do you appreciate about being back in South Delta?
I have so many memories attached to places around town. And I run into people all the time! Living elsewhere made me realize how special small town living - and this place - really is.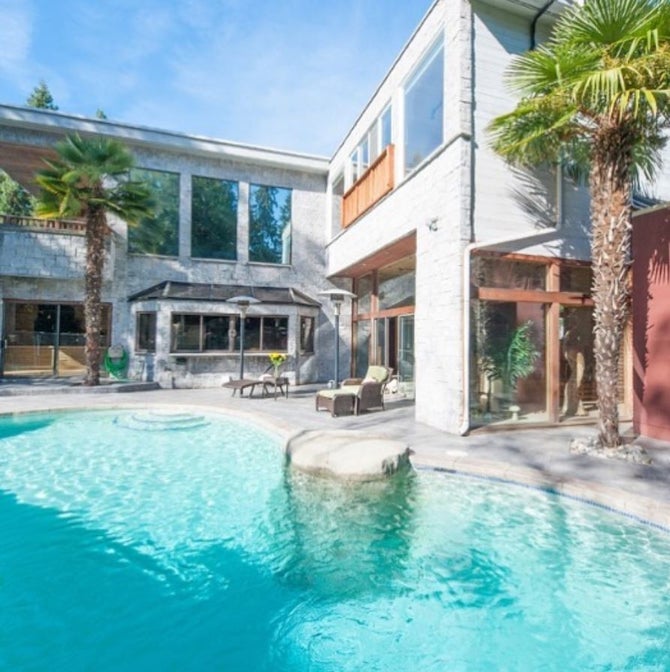 Any final thoughts?
A hot tub or pool is a great addition to a house. It's somewhere for friends to gather and a place to create memories.

If you would like more information on the products and services that Swim Blue Pools and Hot Tubs offers please get in touch!