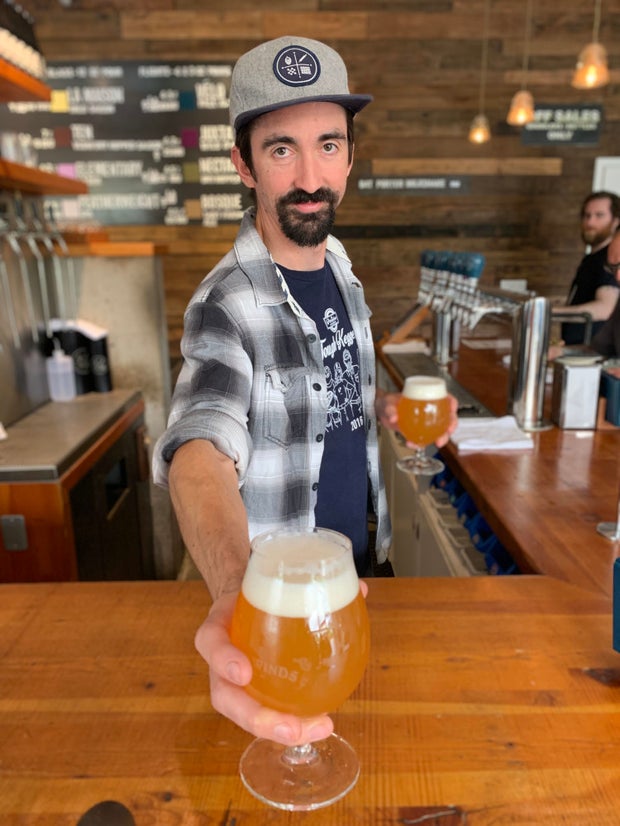 At 11 a.m., hungry customers patiently refresh Twitter to find out what's on Four Winds Brewing Company's daily taco menu. The craft beer specialists pour just as much passion into the food they serve, which is inspired by what arrives in their "Farm Drop" organic produce basket. Whether it's tacos, tapas, or their award-winning beer, everything tastes best when it's made with love, and the Mills' family and their team truly exemplify this. Tasting Room Manager Seamus Munns, a family friend and talented chef, further demonstrates why Four Winds is so globally popular through his genuine care for the company. They've built a successful operation in part by employing friends who come with trained palettes and appetites for propelling the family business forward. What's on tap varies, but customers can always find Four Winds IPA, Pilsner, Pale Ale and Saison, complemented by experimental brews, some of which are collaborations with breweries from all over the world. The in-house team sees no limit to flavour profiles and gratefully appreciates the thirsty customers that seem to overwhelmingly agree with them. With the accolades continuing to roll in and business booming, I was pleased to have the opportunity to speak with Munns, a long time South Delta resident who shared some of his thoughts about Four Winds and the community they serve.
What was it like growing up in South Delta?
Tsawwassen was an amazing place to grow up; I always felt free, connected to nature, and safe and supported by a great network of family and friends. I still hang out with many of the same people I did when I was 5 years old.
What have you come to appreciate about the community as an adult?
My wife and I chose to move back to South Delta to raise our family - we live in Ladner now. I like the proximity to the city and the tightness of the community, and I wanted my kids to have a similar upbringing.
Any favourite spots?
Tsawwassen Beach on the English Bluff side, and Gilligan's Island in Ladner; my kids love the spirit trail, and basically anywhere with water and nature.
You work with your friends every day - what's that like?
It's a dream come true; we're all very close. Many of us have worked together in the past, and we've become a family that honestly push and inspire each other to be better. I'm grateful I get to spend my time with such awesome people - at work and outside of work, too.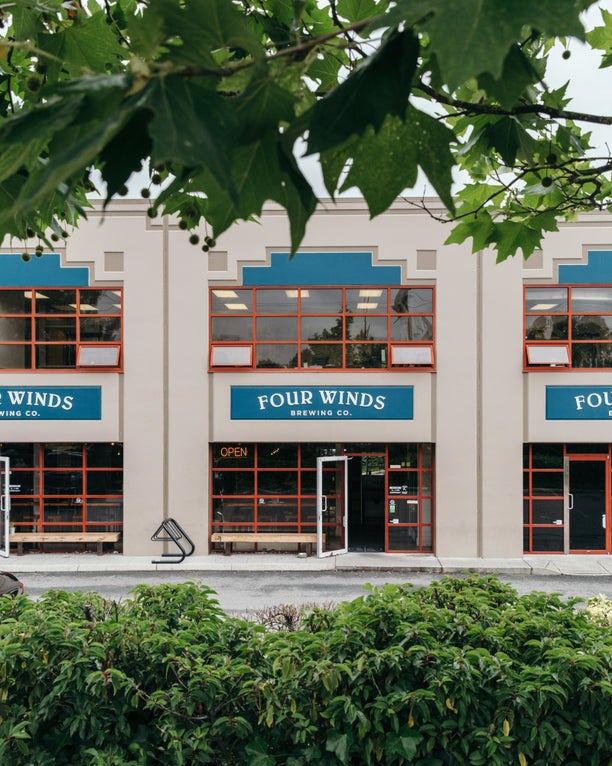 What do you like about managing the tasting room?
It's a special place; people come there to connect. The atmosphere is social and can sometimes feel like a party. It's a place where we get to spend time with people from our community plus meet new people that come out to see what we have going on. We love our customers - they're so supportive of what we do, it's really what keeps us going.
Your tacos are extremely popular; where did the idea to serve food originate?
Many of us are chefs by trade and passionate about food, so we'd take turns cooking for each other in the lunchroom; the food was so good that we decided to bring it into our tasting room. Because we had such a small kitchen, we decided that we had to pick one thing and do it really well - and we all came to the agreement that we could eat tacos every day for the rest of our lives, as long as there was variety. That's how the taco kitchen was born!
You also offer tapas now; how do you come up with new menu items?
Physically expanding the kitchen allowed us to add tapas to the menu, and over the years we've been graced with amazing chefs and cooks who have all left their mark. Our menu still changes every day, and because we use mostly Delta-grown organic produce (85-90% in the warm months/peak season), our menus are based on our farm drop, meaning we don't know what we're getting until it arrives. The produce is a driving force to inspire what we serve; our cooks and chefs have creative freedom to design the daily menu. We also only use Ocean Wise seafood and ethically raised meats. We've definitely created a monster that we have to keep feeding!
What's your favourite beer?
The Saison. It taught me a lot about the concept of beer and how flavour can be developed through fermentation - it tastes like a bouquet of flowers and spice.
How was Four Winds founded?
The Mills family sold their local family business - Mills Paint - and since Greg Mills had gone to boat building school, he and his sons - Brent, Sean, and Adam - were building a boat together in Steveston. During that time they were making home brew to "keep them hydrated" while they worked. The boat took about a year to build, and then their love of brewing encouraged them to take on the next project: starting Four Winds. They're entrepreneurs at heart and had the skills to run with it. Brent attended The World Brewing Academy at Siebel Institute of Technology in Chicago, Greg has won his share of awards for home brewing, and Adam was a natural to run Sales and Marketing. Add a force of friends and family supporting them, and the rest is history.
Where did the name Four Winds come from?
It is a nautical term that means to go in many or all directions; it encompasses how we look at the endless possibilities with beer.
Why did Four Winds choose Delta for its location?
Delta is our home; we all grew up here, and we're raising our families here. We want to support the community that supports us. Plus there wasn't anyone else here brewing beer!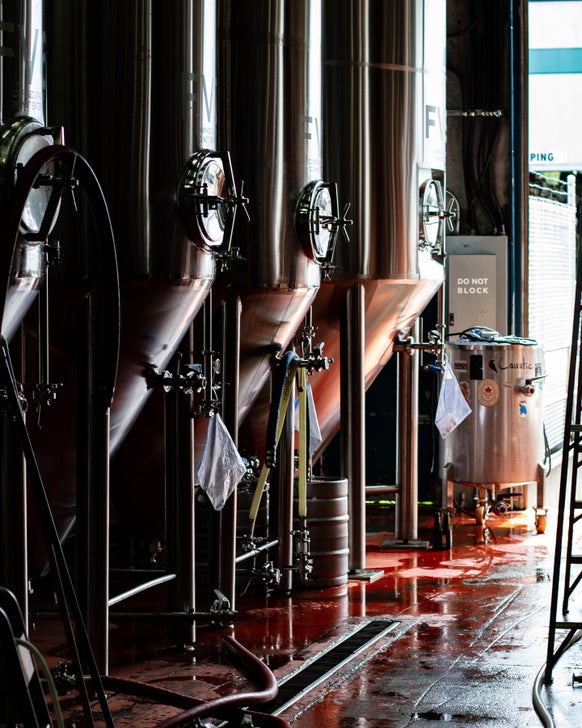 What makes Four Winds different?
The brand was built on four core beers - which were a hit - so that allowed us to experiment with our customer in mind. Brewing techniques have been crafted over hundreds of years, and we're lucky to have access to all that information to blend with our creative passion. We brew beers we love, pursuing interesting, unique, and enjoyable flavours, and we hope that others feel the same way. We're also constantly looking to improve; for example, we're changing some of our packing from bottles to cans to make it easier for people to take our beer to the beach.
What have been some of Four Winds greatest achievements?
The World Beer Cup 2014 in Denver and 2018 in Nashville - we won the Gold Medal for Juxtapose, a west coast IPA made with Wild Belgian yeast; that's probably the most prestigious award for brewers. We also won the Canadian Brewery of the Year in 2018. And of course when the Tsawwassen White Spot started carrying our IPA and it was up on their marquee sign, that's when we knew we'd really made it!
What are some of the businesses challenges?
Reliability and consistency from our suppliers is one, as we are dealing with a perishable product. Also sometimes unforeseen things occur; for example, we recently had a full container of empty bottles flip over on the road. Then there's finding a suitable location; we currently occupy 20,000 sq ft of space in Tilbury in multiple warehouses. We need a production facility and restaurant space, as we've expanded beyond the space we're in. The Southlands opportunity took three years of planning and tons of effort, but now we have to come up with a new plan.
What are the hopes and dreams for the future?
We hope to find a way to build our dream facility here in Delta. We want to continue to evolve and progress as a company where people want to work. We also hope to lead the way in social and environmental progression through supporting non-profits and contributing to and hosting charity events, all while creating a culture where we all enjoy finely crafted beer paired with good food.
Four Winds Brewing Company's tasting room is open Sun-Wed 11AM-7PM and Thurs- Sat 11AM-9PM their products are available in over 1,500 bars, restaurants, and liquor stores, mostly in British Columbia. While some Alberta and Ontario establishments also stock their products, their focus is mostly on the excellent beer culture in the Pacific Northwest, where they've collaborated with numerous other craft breweries. Follow Four Winds on Twitter 
https://twitter.com/FourWindsBrewCo
, connect on Instagram 
https://www.instagram.com/fourwindsbrewco/
 or Facebook 
https://www.facebook.com/FourWindsBrewingCo
, or check out their website for more information 
www
.