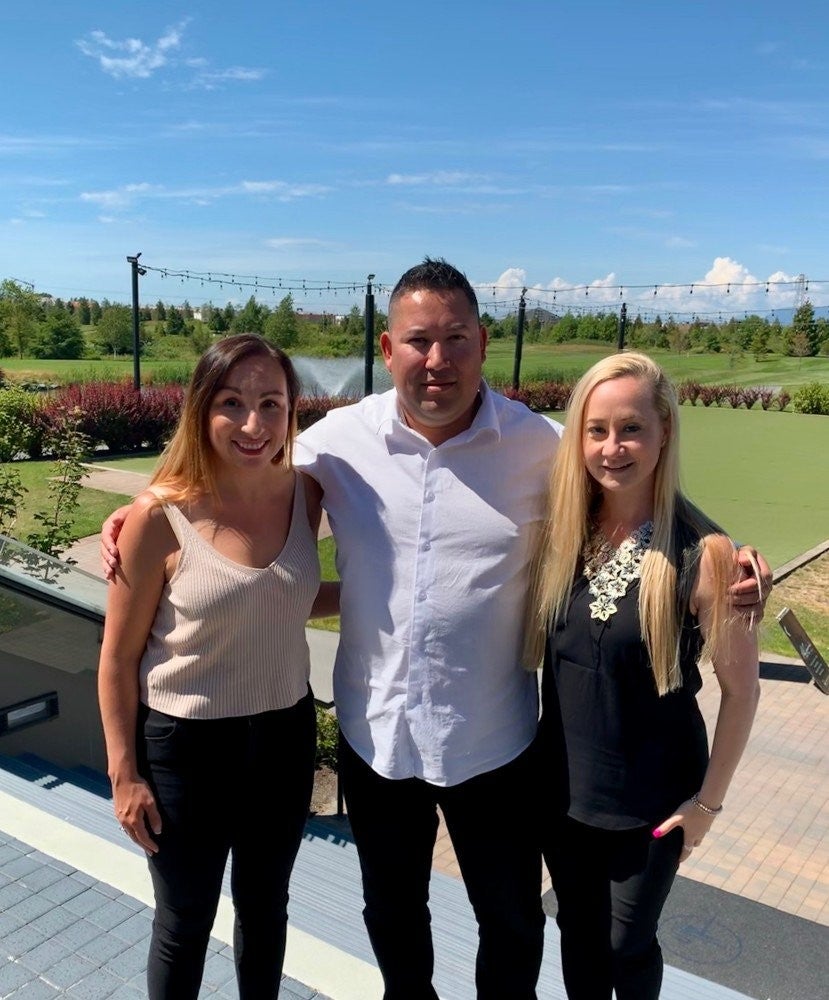 Diversity, education, and community are all key for Marlon Sanchez and his business partner Kristen Hilstob. The Freedom 55 Financial team are invested in strengthening their ties to South Delta by helping people with their financial security.I sat down and chatted with Marlon and Kristen about their business and had a chance to learn more about each of them. Kristen holds a Bachelor of Science and worked in banking before moving to Freedom 55. Marlon brings industry knowledge and an energetic perspective; as a former small business owner, he counts his entrepreneurial approach and Spanish language as valuable assets. They both found careers in finance as a means to help people, and with 20 years of combined experience they bring a wealth of information to our community.
Marlon, I understand you grew up in Tsawwassen. Could you tell me a little about your family's history here?
My family immigrated to Tsawwassen from El Salvador in 1991 when I was 11 years old. My dad worked with St. David's Church to get our family out of our country, in search of opportunity and security. I was enrolled in grade 5 at Beach Grove Elementary school; I didn't speak any English, and it took me three years to learn, it was challenging at times. My mom raised five kids here; She works as a care aid at the Kinsmen Village. My siblings Henry, Freddy and Gloria all run Absolute Plumbing Solutions in Tsawwassen. My family is deeply rooted in this community.
As an adult, what have you come to appreciate about South Delta?
It's a beautiful town! The water, sun, and mountain views make it a wonderful place to raise a family. The people here are amazing; it's a welcoming, open, and vibrant community, and so many people have helped my family in one way or another.
Any specific favourite spots?
I love the Bluff side of Tsawwassen - especially the Fred Gingell Park steps - what a view!
Kristen, you aren't originally from South Delta; what has been your impression of the area?
I moved to the Lower Mainland in 2011, but home for me is originally five hours away in Oyama, between Kelowna and Vernon, so I like the small town feel, the sunshine, and the water.
Why did you choose to get into financial planning?
Kristen
:
My dad passed away when I was 11 years old and my mom was left with finances she didn't know anything about; Often in relationships there's one partner that doesn't necessarily deal with the money, so it can be very stressful for that person if something happens.
Marlon:
I've experienced a lot, coming from a third world country. My mom sacrificed everything for my brothers and sisters and I, and I wanted to make sure if something happened to me she would be taken care of, so I decided to start my financial planning when I was 21. I want to help immigrants or people that are going through something similar to what my family went through, because I feel connected through my own experiences and journey.
What services do you offer?
We have access to every financial vehicle and tool out there: individual wealth building, business financial planning and risk management, group benefits, RRSPs, etc. We help individuals and families with financial peace of mind at all stages of life, whether that's with education savings plans, family planning, mortgage insurance, retirement savings - you name it! We get to grow with our clients as they go from having their first child to retirement, or whatever their path. We change people's lives and get to help them even at the worst points in their lives.
What made you decide to partner together?
We prefer to work as a team because we're aware that we each have different strengths and experiences; we can offer more to our clients by collaborating. We're able to have diversity in how we relate to different clients.
Kristen: Definitely wanting to help people.
Marlon: Absolutely; many of us that grew up in South Delta are raising our families out here and this is the stuff we need to think about now.
What are your greatest challenges?
Honestly, probably getting through to people about how important financial protection and planning is; everyone thinks they're invincible until they've been through a personal experience. And getting people to understand it's affordable! There are so many people out there - like single moms or college grads - that could really benefit from these services that don't realize that. We work within your budget to put a plan together to secure your future.
What are your goals over the next year?
We'd like to create a solid foundation in South Delta and become a trusted business here; we foresee being a one-stop-shop for all our clients' financial needs.
Marlon Sanchez and Kristen Hilstob have over 20 years' combined experience and are licensed in British Columbia and Alberta. Please see the Freedom 55 Financial directory page or visit their websites at
www.marlonsanchez.ca
&
www.kristenhilstob.com
for further information or connect with Marlon and Kristen on LinkedIn.