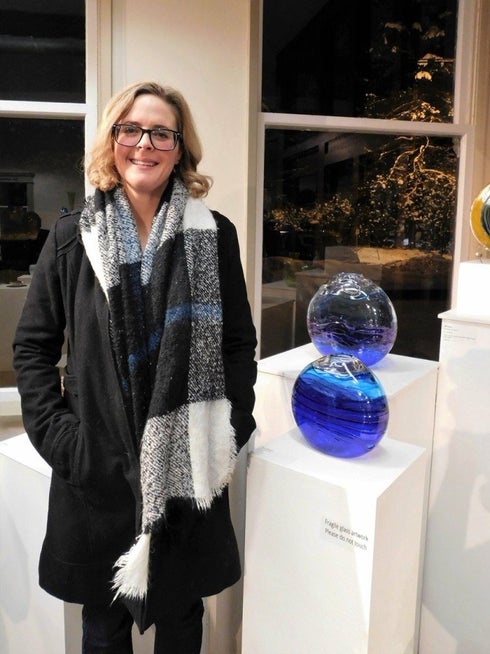 Tara Pawson is often inspired by South Delta's beautiful beachfront when crafting her blown glass creations. The reflection of sunset and moonrise colours on the textured water ripples are often portrayed in her most recent gallery designs. The Ladner native recently moved back to her old stomping grounds and now finds that nature is always calling - and joyfully inspiring further creativity.Tara began dabbling in the art of glass blowing in 2005, a natural progression from metal sculpting in her dad's welding garage. A risk-taking artist who thrills herself by always having more to learn, she urges other artists to constantly ask questions and share their own knowledge. The mother of two is glad to be home again, pouring her creative soul into her passion and happily immersing herself as a rich part of the market variety and studio fixtures of Ladner Village. She says glass blowing is a collaborative and community effort, from the support she gets at home and from her colleagues, to those who follow and buy her work. As such, South Delta is a perfect fit for both her family and her business. Glassblowing isn't your average career - when and how did you get into it?
I took my first glass blowing course in 2005 at a studio called Joe Blow Glassworks in East Vancouver, which is the current home of Terminal City Glass Co-op. I'd been doing a lot of metal sculpture in my father's garage - he was a welder millwright - and my parents gifted me the course for my birthday. I was instantly hooked; I took a few more short courses and spent all my free time at Robert Held Art Glass in Kitsilano, until eventually I was offered a job blowing glass.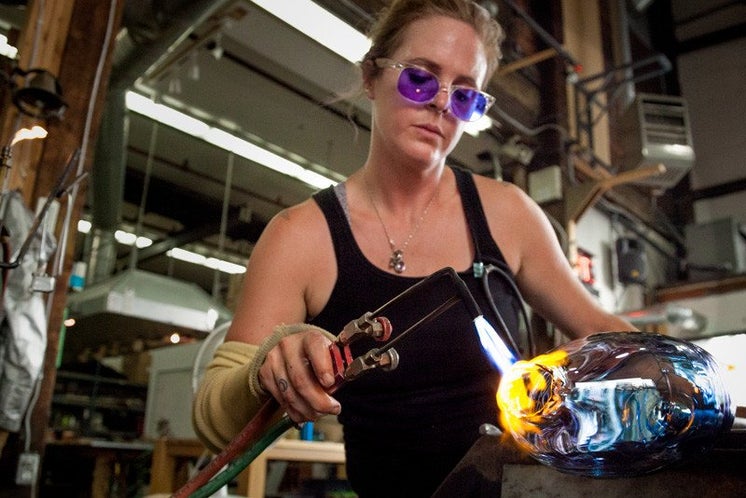 What was the first piece you made?
The first piece I made was a pretty traditional beginner piece, a solid paperweight. It was dark blue, burgundy, and clear; my mother still displays it proudly - to my dismay!
How do you come up with new designs?
Inspiration is hard to find these days; life is busy with two young children and a growing product line. But I am a person always drawn to colours and textures.This past year I've been focusing on the sunset and moonrise colours that I see on South Delta's dykes during the summer months.
What is one of the most unique pieces you've made?
For the pieces that immediately come to mind I'd have to give credit to many people; glassblowing often involves lots of collaboration and teamwork. I most recently did a demonstration with a colleague that really celebrated the showmanship of glassblowing; we were taped together as conjoined twins at a circus-themed fundraiser for our Glass co-op studio. Together, with a seal and a ringmaster on site as well, we made a fire-breathing clown head. It was silly and fun and the crowd loved it!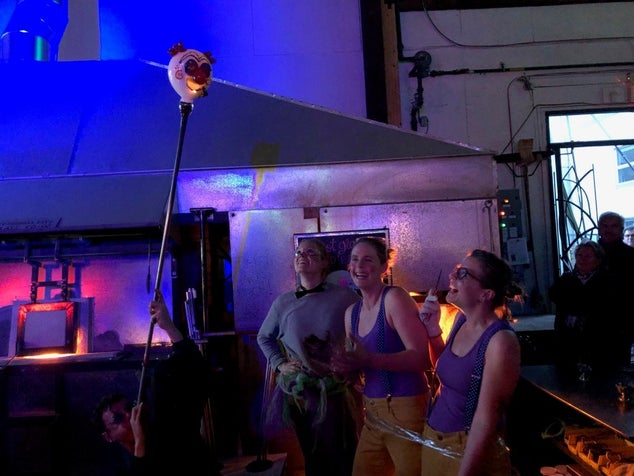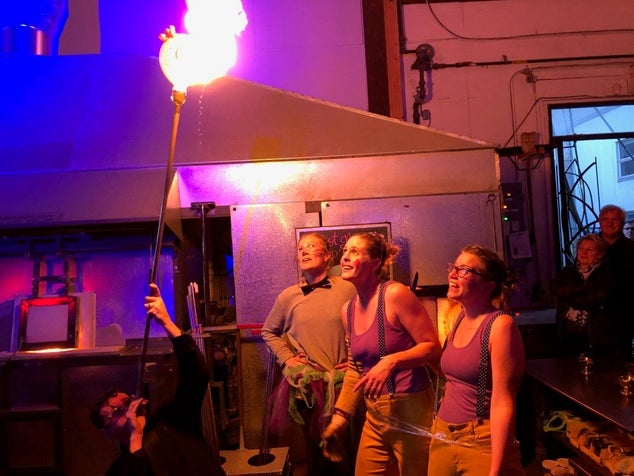 One of the unique services I offer is Cremation Glass Keepsakes. They are a creative alternative or addition to a cremation memorial service, scattering of ashes or traditional urn. Multiple family members can even have their own Keepsake.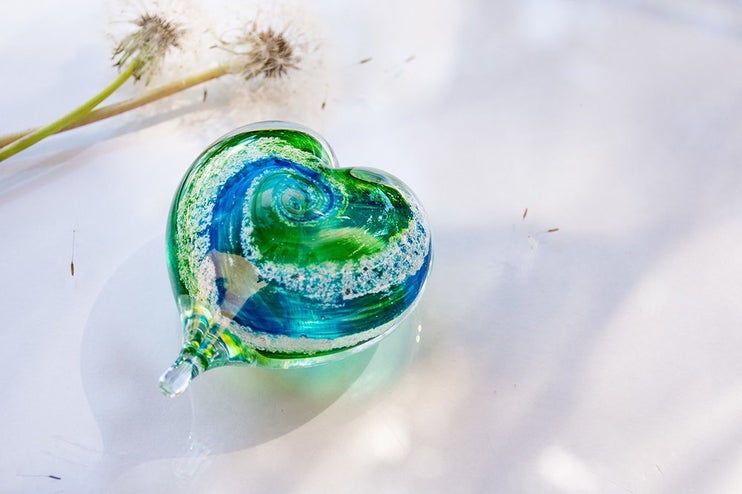 How did you turn your passion into a business?
After I had my second child, going back to work in a full time glass production facility didn't seem feasible with child care costs and time commitments taken into account. I started Tara Blown Glass and designed a product line that was functional, affordable, and giftable. That gave me the opportunity to make my own hours, create my own designs, and be at home with my children while practicing my passion.
After growing up in Ladner what's it like to be back?
It's a little surreal; we just recently moved back. A lot has changed and yet stayed the same. I used to love strolling the Ladner Village market as a customer, and now, I love being a vendor there and being a part of it in a different way. The village has had some great upgrades recently and the whole vibe of the area is so casual and relaxed.
What do you love about living in South Delta?
I love having so many local farms to visit and purchase fresh food; I love the rows of thriving small businesses; I love the sense of community - we have a lot of family and friends around having grown up here - and being close to the river and the ocean is great!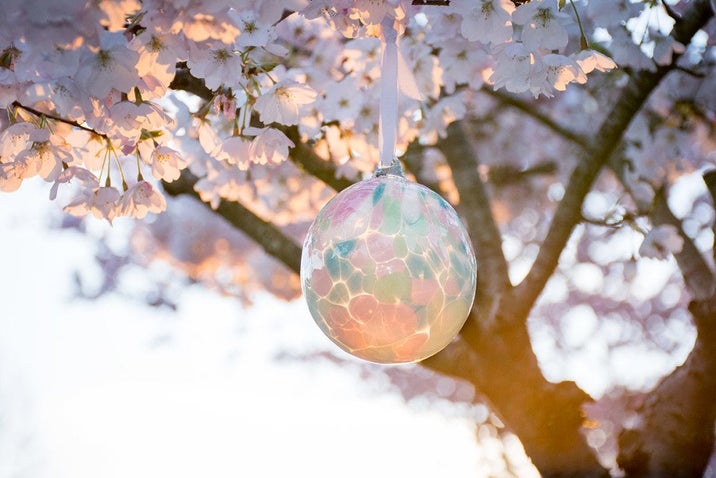 What advice would you give aspiring artists?
Do the work. Do all the work! Do the work that pays the bills and do the work that sets your soul on fire. Try new things constantly to push yourself. And also do the same things over and over; then, when you think you've done it perfectly, do it again a whole new way. Open yourself to the thought that you will never master your art, and that you will always have something new to learn. Ask questions, even when they seem silly or unrelated. Lastly, share your knowledge and love with others.
Where do you see your business in the next few years? 
I have a few big goals in mind, but I would love to have my own studio space here in Delta. I feel like I could really bring something to the Delta Art Community. I would like to include a retail space and offer workshop and demonstrations to the public.